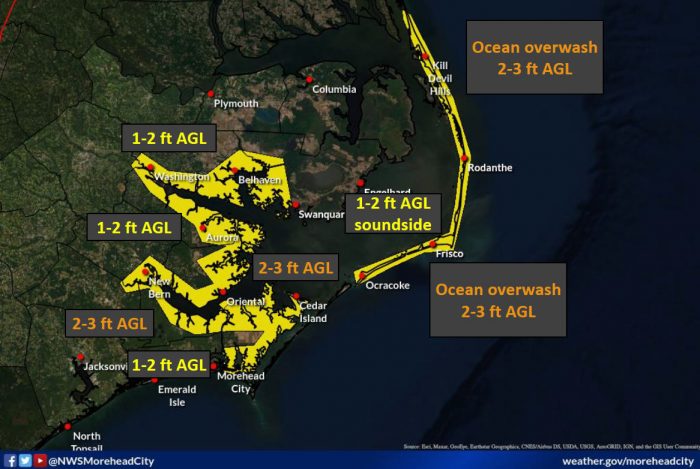 A strong offshore low pressure system could bring ocean overwash, soundside flooding, and wind gusts in excess of 45 mph late Saturday night through Sunday, per a recent briefing from the National Weather Service (NWS) Newport / Morehead City office.
The low pressure system will continue to meander close to the N.C. coast tonight and tomorrow, and may still acquire enough tropical characteristics to be classified as a sub-tropical storm at some point on Saturday evening.
Per the NWS, expected impacts include strong sustained winds to Gale Force across coastal areas tonight, ocean overwash across the Outer Banks during the next two high tide cycles, minor to potentially moderate coastal flooding of 2-3 feet above ground in areas adjacent to the southern Pamlico Sound, and heavy rainfall with possible minor flooding.
The next high tides are around 10:30 p.m. on Saturday night, and 11:30 a.m. on Sunday. N.C. Highway 12 remained clear of ocean overwash as of 5:30 p.m. on Saturday, although minor standing water was reported on patches of the roadway due to the recent rainfall.
Multiple advisories are in place for Saturday night and Sunday for the Outer Banks, including a Coastal Flood Advisory. High Surf Advisory, Wind Advisory, and a Gale Warning.
For more information on the local forecast, visit www.weather.gov/mhx for general weather information, or the National Weather Service office in Newport / Morehead City's Facebook page at https://www.facebook.com/NWSMoreheadCity/.