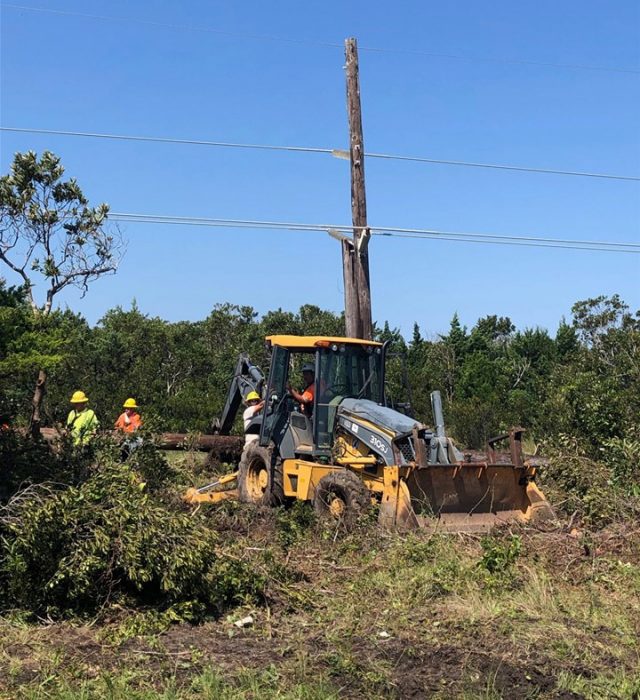 Hatters Island opened to non-resident property owners and employees of non-critical businesses on Sunday, as Hyde County reported that mandatory evacuation orders continue, and boats and planes attempting to reach the island will be turned away.
Additional updates for Hatteras and Ocracoke islands as of 3:30 p.m. on Sunday include the following:
Ocracoke Island:
Ocracoke Island is still under a mandatory evacuation order. Reentry is restricted to emergency personnel and other preauthorized deliveries.
A ban on alcohol sales remains in effect, as well as the nightly curfew from 10:00 p.m to 6:00 a.m.
Any private boats attempting to access the island will not be allowed entry to the island, and the Ocracoke Airport is only for authorized government services, and is currently being used for overflow storage of supplies, per the Hyde County Sheriff's office. Please do not attempt to come without prior authorization from the Hyde County EOC. "While we certainly appreciate people trying to help, showing up without coordination actually interferes with the relief efforts," stated Hyde County in a press release.
Any Ocracoke residents that are going to need assistance from house cleaning crews and/or chainsaw crews should come to the assistance desk at the Ocracoke Fire Station and put their name on the list. The list will be used to prioritize the crew deployments.
Ocracoke residents that still want to evacuate the island can do so on Sunday and Monday. Reentry will not be permitted until the evacuation order is lifted. Ferries will leave to Swan Quarter at 10 a.m. and 12 p.m., 2 p.m., 4 p.m., 6 p.m. and 8 p.m. Ferries to Cedar Island depart at 11 a.m. and 5 p.m.
Hot meals are being served throughout the county today. On Sunday in Ocracoke, the Salvation Army will serve dinner at 5:00 p.m. in the Community Center.
Per the Hyde County Sheriff's Department, the Ocracoke Volunteer Fire Department remains the pickup location for any needed supplies.
Per a press release from Hyde County, the county and Ocracoke Island is grateful for the overwhelming response to the recovery efforts on Ocracoke. At this time, Hyde County reports that they have all the food and supply donations they can handle.
Please do not send anything to the island without coordinating with the Hyde County staff. Donors can call 833-543-3248 to report what they have and to evaluate the county's current needs. "Please be patient while we work to organize everything, stated a Hyde County press release. "If you would still like to donate to the relief effort, we would recommend a cash donation to the Outer Banks Community Foundation. You can donate specifically to Ocracoke at the following website: https://www.obcf.org/donate-now/disaster-relief-fund-donate/"
Per the Ocracoke Observer, anyone who wants to make donations or get on a work crew can also email ocracokedisasterrelief@gmail.com. Folks are asked to please include number of people, supplies/resources you have, tools, skill level, name and phone number.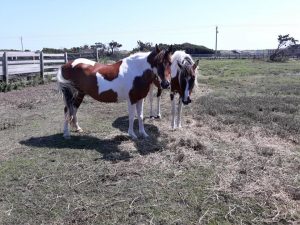 The Ocracoke Observer also reports that 20 gallons of gas per person per day will be available at the gas station from tanker trucks, and the Variety Store will be open from 8 a.m. until 7 p.m. daily, with free ice while supplies last. Residents are advised to bring a flashlight to enhance visibility while shopping, as for the first time in 36 years, the Variety Store was inundated with water, which has affected the electric wiring.
The Cape Hatteras National Seashore reported that that the Ocracoke Ponies are doing well and that their wrangler has been giving them some extra love and attention these last couple of days. Park Rangers on Ocracoke have also been busy helping deliver food and supplies to residents.
Hatteras Island
Hatteras Island opened to residents and essential personnel on Saturday night (Priority Two), and non-resident property owners and employees of non-critical businesses on Sunday at noon (Priority Three.) Non-resident property owners must have a valid re-entry permit and matching current government-issued ID OR a current tax bill or parcel data sheet with matching current government-issued ID. Non-resident employees of non-critical businesses must have a valid re-entry permit with matching current government-issued ID.
A checkpoint is stationed at the northern end of the new bridge across Oregon Inlet to ensure proper access.
Dare County's online re-entry permitting system and detailed information about the staged re-entry process is available at www.darenc.com/reentry.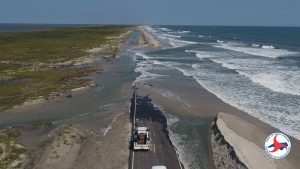 Moderate amounts of sand and saltwater remain on some sections of N.C. Highway 12, from Hatteras village to Pea Island, although NCDOT worked all Saturday to remove debris from the road. Returning residents are advised to drive slowly and proceed with caution.
Cape Hatteras Electric Cooperative (CHEC) reported on Sunday morning that crews are continuing work to restore power to about 200 small, scattered outages across the island. If you do not have power, and have not reported it, please call CHEC at (866) 511-9862. Transmission power was restored to all circuits on Hatteras Island on Saturday night.
A mobile food kitchen has been established on Hatteras Island in two locations – the old PNC Bank site in Buxton, and the Frisco Fire Department. The Salvation Army Food Kitchen will provide meals three times per day. Mealtimes at both locations are 8 a.m. for breakfast, 12 p.m. for lunch, and 6 p.m. for dinner.
A number of stores and businesses have opened, which includes Frisco Rod and Gun, Conner's Supermarket, and Ace Hardware – which all opened Saturday – and Village Red & White of Hatteras and Food Lion, which opened Sunday. Hours of operation may fluctuate for businesses, based on individual storm damage.
Hatteras Island residents who want to help with the Ocracoke Island recovery efforts, which includes volunteer work crews, can check in at the Hatteras Fire Station to evaluate current needs. As of Sunday, it was reported that plastic totes and boot socks are especially needed at this time.
Hatteras Island residents and property owners who want to donate totes and boot socks, as well as box fans and extension cords, can drop off these items at the Hatteras Fire Station, care of Jeremy Hicks.
Dare County is available to  help Hatteras Island residents in need. Please contact the Department of Health and Human Services at 252.475.4196 if you or someone you know needs assistance. In areas of the county most impacted by the storm, relief workers will be in the field knocking on doors, but please reach out and let county officials know if you need assistance.
The 2019 Day at the Docks event, which was scheduled for September 13-14, has been canceled.
Per a Saturday update, Cape Hatteras Secondary School suffered significant damage, as a large part of the roof flew off during the storm. School officials canvased the building on Saturday, and reported that about a third of the school has been damaged. "We are working on a comprehensive recovery effort to be in a position to open CHSS as soon as possible," said Dare County Schools Superintendent John Farrelly in an online statement.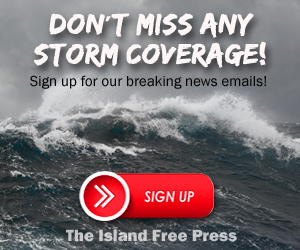 All Dare County Schools will be closed on Monday, September 9, for all students and school staff.
Cape Hatteras National Seashore remains closed to all public use. Additional resources from the National Park Service arrived today to aid in damage assessments and mitigating immediate risks to life safety.
Folks who want to donate funds towards recovery efforts can contact the Outer Banks Community Foundation (OBCF) at www.obcf.org/disaster or the Cape Hatteras United Methodist Men, which is a local organization that has been assisting Hatteras Island for 40 years.
Checks can be mailed to:
Cape Hatteras United Methodist Men
PO Box 1591, Buxton, N.C. 27920
Checks should be marked "Hurricane Dorian Relief" and receipts will be sent. 100% of donations are used to address the needs of islanders.