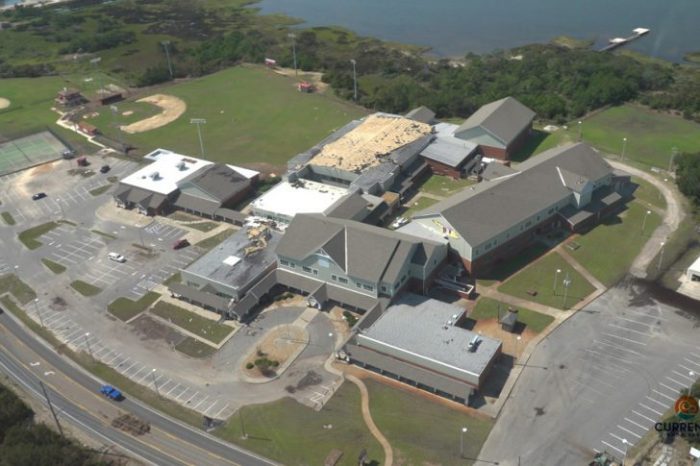 In a briefing to the Dare County Board of Education on Sept. 10, Superintendent John Farrelly described the Hurricane Dorian damage to Cape Hatteras Secondary School as "absolute devastation." He said district staff has been working around the clock to mitigate the situation and as for students returning to school, asserted, "We are shooting for Monday [Sept. 16] at this point, tenuous on the building inspector and fire inspector signing off."
Farrelly noted that the gymnasium and media center in the older portion of the building took the brunt of the damage. The school's athletic fields have also been destroyed, there are major problems with the concession stand area and the new press box was leveled.
The superintendent did point out that Principal Beth Rooks has a plan is in place to utilize the remaining two-thirds of the building while repairs and reconstruction takes place. He said district officials believed the gymnasium floor is salvageable, but a tremendous amount of rain came into the building and impacted the gymnasium, fish hatchery, and a handful of classrooms.
Farrelly said district staff has worked around the clock to expedite repairs at the Hatteras school that houses grades 6 to 12. "If you see Beth Rooks, give her hug, pat on the back…because she has been phenomenal," he said. "She actually left her home to go check on the school in probably ninety-five mile per hour winds."
Cape Hatteras Elementary School resumed a regular schedule beginning on Wednesday, September 11.
Due to continuing repairs from hurricane Dorian, Cape Hatteras Secondary School will be closed for students for the remainder of this week.
A decision will be made as soon as possible to determine if Cape Hatteras Secondary School will resume a regular schedule on Monday, September 16.