Tropical Storm Arthur brings rain and wind, but no major impacts yet to the Outer Banks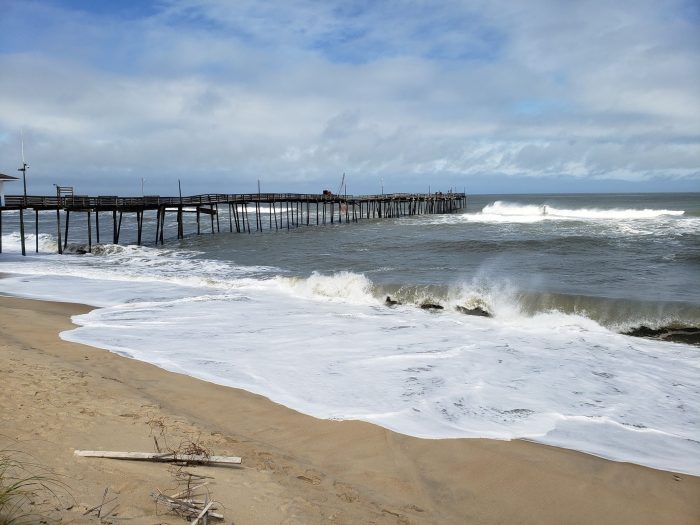 Tropical Storm Arthur brought bouts of rain and intermittent strong wind gusts to the Outer Banks on Monday morning, but there have been no major coastal flooding events or severe impacts yet to Hatteras or Ocracoke islands as of 3 p.m. on Monday afternoon.
Arthur skirted the Outer Banks, (with the center located roughly 50 miles east of Cape Hatteras), midday on Monday with maximum sustained winds of 50 mph.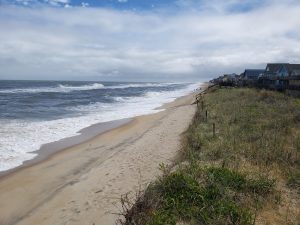 Heavy rains that started on Sunday night continued throughout the day, although wind gusts began to diminish as Arthur started to move away from the Outer Banks on Monday afternoon.
Minor standing water from heavy rains was reported on N.C. Highway 12, however, there was no major soundside or oceanside flooding reported as of 3 p.m., and the highway remained passable throughout Hatteras and Ocracoke islands.
As of Monday at 2 p.m., Arthur had picked up speed and was moving northeast, away from the coast, at 16 mph.
Soundside flooding is still a possibility as Arthur moves away from the islands, with a wind shift to the NW that could bring 1-2 feet of above-ground inundation. The soundside water levels are expected to rise the fastest on Monday afternoon and evening
A Tropical Storm Warning remains in effect until Monday night for the Outer Banks, north of Ocracoke Inlet.
While some strengthening is forecast during the next 24 hours, Arthur is likely to lose its tropical characteristics beginning late tonight or Tuesday.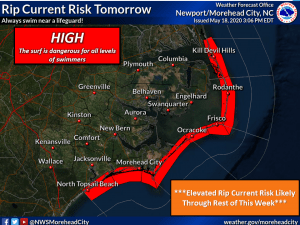 Swells generated by Arthur are still affecting the Outer Banks, and will continue to do so through the rest of the week.  These swells could cause life-threatening surf and rip current conditions, and beachgoers are advised to stay out of the water.
More than 2.3 inches of rain was recorded in the Tri-villages over the past 24 hours, but this a preliminary total, per the National Weather Service Newport / Morehead City office. Wind gusts of 40 mph were also reported in Avon on Monday morning, however final totals for wind gusts and rainfall due to Arthur will likely be available after the storm has left the N.C. region.
Tropical Storm Arthur now makes six consecutive years where an Atlantic tropical cyclone has developed before June. Most storms occur during the June 1 through November 30 Hurricane Season.
To sign up to receive alerts from Dare County Emergency Management go to www.darenc.com/departments/emergency-management/emergency-alerts.
Follow forecast changes from the National Hurricane Center at www.nhc.noaa.gov or local National Weather Service office at www.weather.gov/mhx.