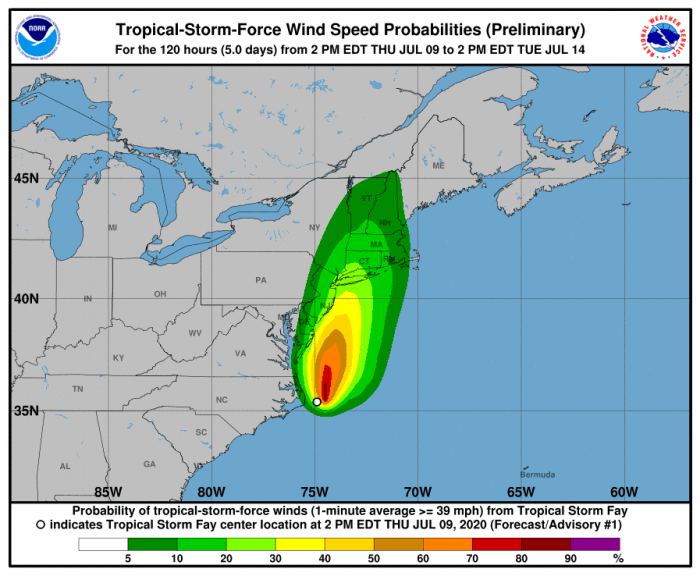 A low pressure system lingering off of the Outer Banks was upgraded to Tropical Storm Fay on Thursday afternoon, however, minimal impacts are expected from the storm as it starts to move northeast from the North Carolina coast, per a Thursday night update from the National Hurricane Center.
As of 8:00 p.m. on Thursday, Fay was located approximately 70 miles northeast of Cape Hatteras with maximum sustained winds of 45 mph. Fay is currently moving north at 8 mph, and a north to northeast motion at a faster forward speed is expected over the next several days.
On the forecast track, the center of Fay is expected to move near the mid-Atlantic coast on Friday, and move inland over the northeast United States on Saturday.
The heaviest rains from Fay still remain well offshore, though a few rain showers may impact the Outer Banks this evening and overnight. Otherwise, the region will continue to see scattered showers through Friday morning.
In terms of impacts from winds, they are still expected to remain light for much of the area. Locations along the Outer Banks will see occasional gusts of 20 to 30 mph in the next 24-48 hours.
There is high risk of rip currents for all Hatteras and Ocracoke beaches, and visitors are advised to stay out of the water for the immediate future. Boating conditions will be poor in the waters along the Outer Banks region through early Friday morning.
For more information on the local forecast, visit www.weather.gov/mhx for weather information, or the National Weather Service office in Newport / Morehead City's Facebook page at https://www.facebook.com/NWSMoreheadCity/.