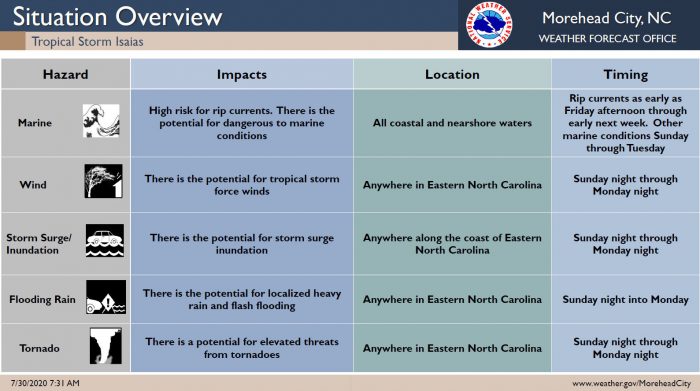 Tropical Storm Isaias has formed and is expected to bring a high risk of rip currents, and the potential for tropical-storm-force winds, heavy rains, and storm surge beginning this weekend, per a Thursday morning update from the National Weather Service (NWS) Newport / Morehead City Office.
The first impacts from this system will likely be increased swell and a high rip current risk, arriving late Friday and continuing through the weekend. The threat for tropical-storm-force winds is increasing, especially along the Outer Banks, and Tropical Storm conditions could begin as early as Sunday night.
The earliest reasonable time of arrival of tropical-storm-force winds is sometime Sunday night. However, the most likely time the Outer Baks area could see tropical-storm-force winds will be during the day on Monday
Storm surge inundation is also possible along the coast and local sounds/rivers, and localized heavy rain is also possible, depending on the storm's final track.
The NWS advises that now is a good time for Outer Banks residents to check their hurricane plans, and guidance can be found at weather.gov/mhx/hurricaneprep.
In an 8:00 p.m. update from the National Hurricane Center, Tropical Cyclone #9 was located about 125 miles west of Ponce, Puerto Rico, with maximum sustained winds of 50 mph, and the system was moving northwest at 30 mph.
The Island Free Press will continue to post updates as soon as they become available. For more information on the local forecast, visit www.weather.gov/mhx for weather information, or the National Weather Service office in Newport / Morehead City's Facebook page at https://www.facebook.com/NWSMoreheadCity/.