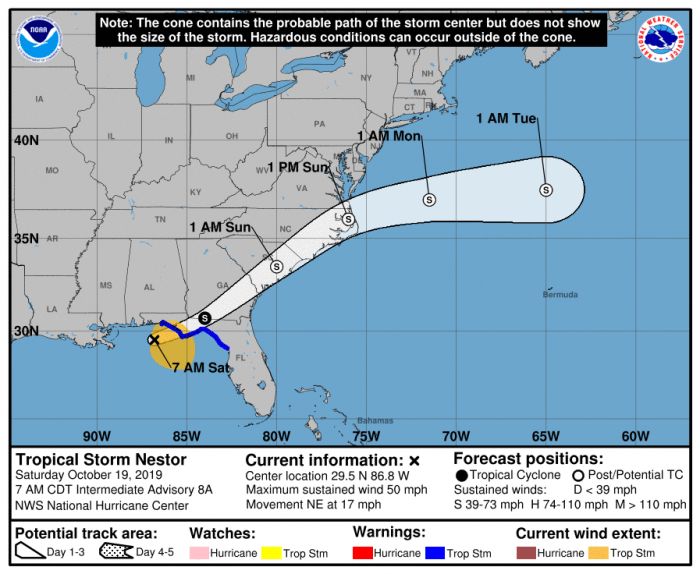 Potential Tropical Cyclone #16 was upgraded to Tropical Storm Nestor on Friday afternoon, and the storm is expected to reach Eastern N.C. by Saturday night, bringing 35-45 mph winds, dangerous surf, and possible coastal flooding.
Tropical Storm Nestor will come onshore along the Gulf Coast this morning. The system will then quickly move up the Southeast coast and reach the Eastern North Carolina area by tonight. While the system will lose its tropical characteristics after landfall, and thus will lose its name, the local impacts are NOT dependent on the tropical nature of the system.
Minor coastal flooding is possible across the Outer Banks along both the sounds and the oceanfront. Areas of greatest impact are largely dependent on the track of the low, but locations with dune structures already weakened by Dorian and last week's Nor'easter will be particularly vulnerable. Motorists should proceed with extreme caution during storm conditions and never drive into flood waters. For real-time travel information, visit DriveNC.gov or follow NCDOT on social media.
Gusty winds are possible across the area, with the strongest winds of 35-45 mph mainly confined to coastal areas. Isolated tornadoes are also possible, which could lead to extensive but very localized damage.
A Wind Advisory is in effect for Dare and Hyde counties, and a Gale Warning will be issued for the coastal waters starting late tonight.
Seas as large as 10-13 ft. on Sunday will bring very dangerous maritime and surf zone conditions. The elevated threat for rip currents will continue into the early part of next week.
Widespread rainfall amounts of 1 to 3 inches expected, with locally higher amounts possible. High rainfall rates will make localized flash flooding a possibility, especially for more urban areas.
Though the Outer Banks area will receive impacts from the system, uncertainty remains with respect to the specifics of the impacts, which are track dependent. For more information on the local forecast, visit www.weather.gov/mhx for weather information, or the National Weather Service office in Newport / Morehead City's Facebook page at https://www.facebook.com/NWSMoreheadCity/.