Tropical Storm Warning and Storm Surge Watch issued for the Outer Banks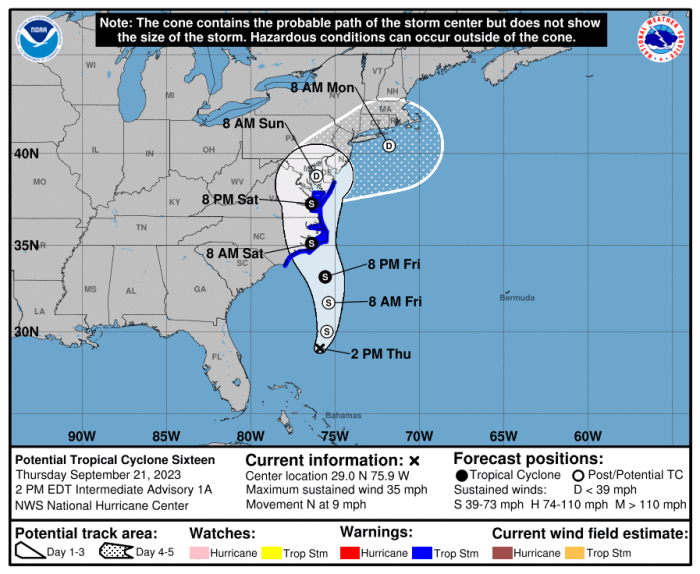 The National Hurricane Center has issued a Tropical Storm Warning and a Storm Surge Watch for all areas of the Outer Banks due to the expected impacts from an area of low pressure off the southeastern coast of the U.S.
This developing system—which is currently identified as Potential Tropical Cyclone 16 by the National Hurricane Center, and which could become Tropical Storm Ophelia—will likely bring tropical-storm-force winds, storm surge, heavy rain, and high surf to Hatteras and Ocracoke Islands beginning on Friday, September 22, and continuing into the weekend.
A Tropical Storm Warning indicates that tropical storm conditions—including sustained winds of 39 mph to 73 mph—are expected within 36 hours or less. A Storm Surge Watch indicates the possibility of life-threatening inundation of water within 48 hours.
A High Surf Advisory was issued by the National Weather Service office in Newport/Morehead City, N.C. at 3:50 a.m. on Thursday, and will remain in effect until 5 p.m. on Saturday, September 23.
Residents and visitors throughout Hatteras and Ocracoke Islands should expect these impacts:
Life-threatening rip currents and large surf with waves heights of 7-10 feet in the surf zone will result in dangerous conditions along all Outer Banks beaches beginning Thursday and continuing into the weekend.
Between 2-4 feet of above-ground storm surge inundation is possible along the oceanfront and soundside. Specific locations and impacts will be driven by wind strength and direction. With the current forecast, the potential for rising water levels should be anticipated at all locations that are susceptible to wind-driven flood impacts. *Details on timing can be found on the National Weather Service Newport/Morehead City, N.C. website by entering your location in the upper left corner and then reviewing the wind direction and intensity on the "Hourly Weather Forecast" found at the bottom right under "Additional Resources."
Increasing winds that should peak at 45-55 mph with gusts of up to 70 mph are expected to begin on the evening of Friday, September 22, and continue through the afternoon of Saturday, September 23. Actions should be taken now to secure loose property to keep it from becoming a projectile hazard.
4-6 inches of rain with locally higher amounts is forecast, as well as rainfall that could lead to flash flooding and standing water on roadways that may impact travel.
Potential tornado activity is also possible. Be sure to have multiple ways to receive weather alerts, especially at night.
Travel on N.C. Highway 12 may be impacted by ocean overwash at vulnerable locations, especially during high tide. Travel on secondary roads throughout Hatteras and Ocracoke Islands that routinely flood during wind-driven events may also become impassable and hazardous.
Actions should be taken now to protect vehicles and property that are parked or stored in areas that are susceptible to wind-driven flooding countywide. Those who are located in vulnerable oceanfront homes that have the potential to be surrounded by ocean water due to there being no existing dune structure should relocate.
Dare County Emergency Management advises residents and visitors to exercise extreme caution when visiting local beaches and to stay out of the ocean, as current conditions have made ocean swimming unsafe for even the most experienced swimmers.