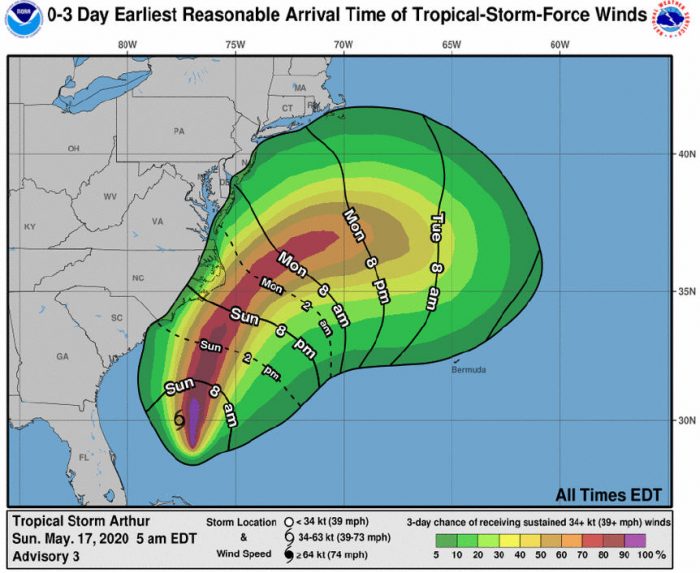 Tropical Depression One has strengthened into Tropical Storm Arthur, with maximum sustained winds currently at 40 mph. A Tropical Storm Warning is now in effect for the Outer Banks, and Arthur is expected to bring high winds and rain to the area beginning Sunday evening, and continuing through Monday.
Dangerous rip currents are already being reported along the Outer Banks, and will continue over the next several days.  Ocean swimming is not recommended, and beachgoers are advised to stay out of the water.
East to northeasterly wind should start to increase this evening into tomorrow morning, and wind gusts up to 63 mph are possible along Hatteras and Ocracoke islands starting Sunday night.
Heavy surf may lead to beach erosion and dune breaches, mainly in typically vulnerable locations, which may impact N.C. Highway 12. Periods of moderate to heavy rainfall are also possible along the coast, with the potential for localized minor flooding.
Storm surge is a concern, and localized inundation with storm surge flooding is possible along immediate shorelines and in low lying spots.
Per an update from Dare County Management, Residents and visitors are asked to make preparations as soon as possible.  
In preparation for the storm, all outdoor furnishings, trash cans and any loose items should be properly secured.
Be ready to protect all property, including motor vehicles from possible storm surge of 1-2 feet of water above ground in low lying areas.
As winds and rain increase, be ready to minimize travel. If you must go out do not drive on flooded roads.
If you lose power or other utilities, do not call 911. Use customer service numbers to report power outages.  Dominion Power: 1-866-366-4357, Tideland:  1-800-882-1001. Cape Hatteras:  1-866-511-9862.
Provide shelter for pets.
Keep cell phones charged.
Ensure that flashlights and a battery-powered radio are in good working order. Have plenty of batteries. Use of candles and other open-flame light sources is not recommended
To sign up to receive alerts from Emergency Management go to www.darenc.com/departments/emergency-management/emergency-alerts.
Keep up with forecast changes from the National Hurricane Center at www.nhc.noaa.gov or local National Weather Service office at www.weather.gov/mhx.