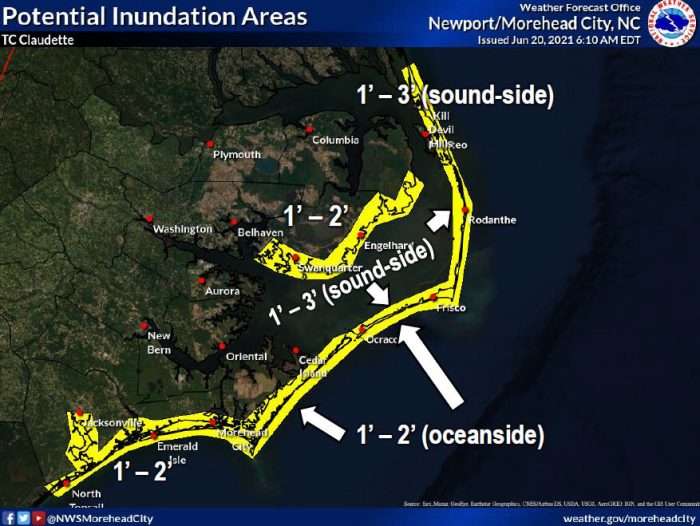 A Tropical Storm Warning is now in effect for the Outer Banks, as Claudette is expected to bring heavy rains, high winds, and minor coastal flooding to Eastern N.C. starting Sunday night, per a recent update from the National Weather Service Newport / Morehead City office.
Tropical Depression Claudette will move east-northeast through Sunday and is forecast to strengthen to a Tropical Storm and move over North Carolina tonight into Monday. A Tropical Storm Warning means that tropical storm conditions are expected somewhere within the warning area within 24 to 36 hours.
Strong southerly winds will cause minor water level rises late Sunday through Monday morning for areas south of Cape Hatteras. As Claudette moves away, and winds shift to the west, storm surge of 1-3 feet above ground level is possible for soundside Ocracoke and Hatteras Islands, while 1-2 feet of flooding is possible for the oceanside areas of the Outer Banks.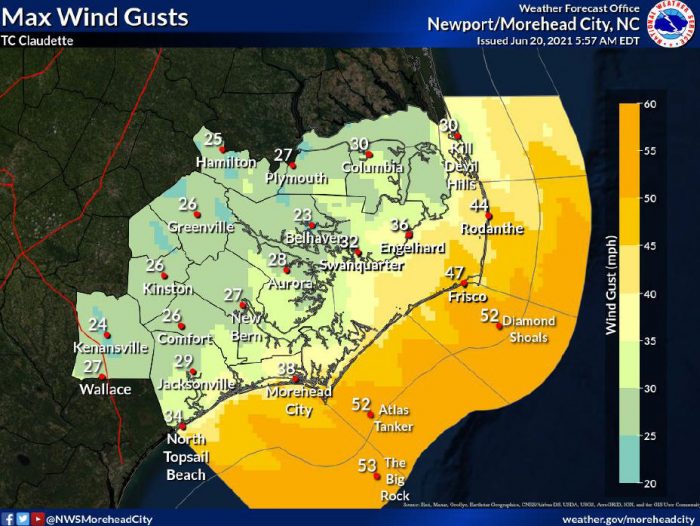 Wind gusts up to 50 mph are currently forecast for the Outer Banks, and the most likely time of arrival of tropical storm-force winds for Eastern North Carolina is after midnight tonight into early Monday, however, the Outer Banks could see tropical-storm force winds as early as Sunday evening.
1 to 3 inches of rainfall is forecast for Eastern NC through Monday, however, locally higher amounts of rainfall are possible, and there is an elevated risk of severe thunderstorms and isolated tornadoes. The main threat of tornadoes is from Sunday afternoon through Monday morning.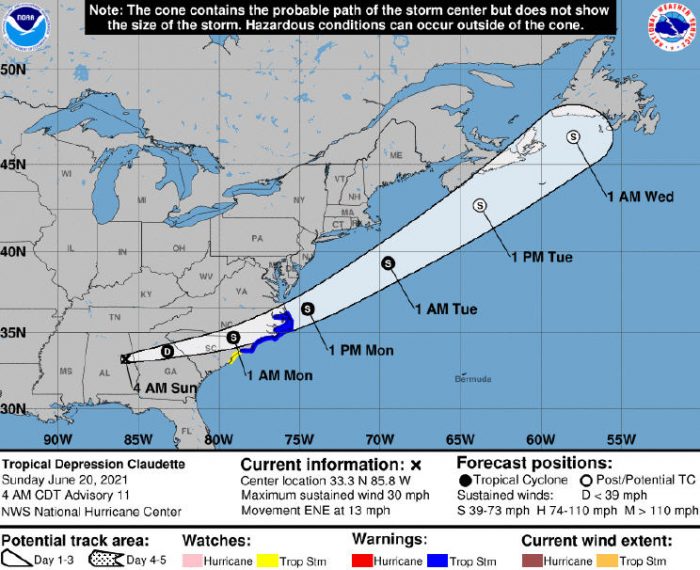 On the forecast track, the system should cross portions of the southeast U.S. through tonight, move over the coast of North Carolina into the western Atlantic Ocean on Monday, and be located south of Nova Scotia by late Tuesday. As of Sunday morning, maximum sustained winds remain near 30 mph (45 km/h) with higher gusts.
For more information, visit www.weather.gov/mhx for weather forecast information, or the National Weather Service office in Newport / Morehead City's Facebook page, https://www.facebook.com/NWSMoreheadCity/.