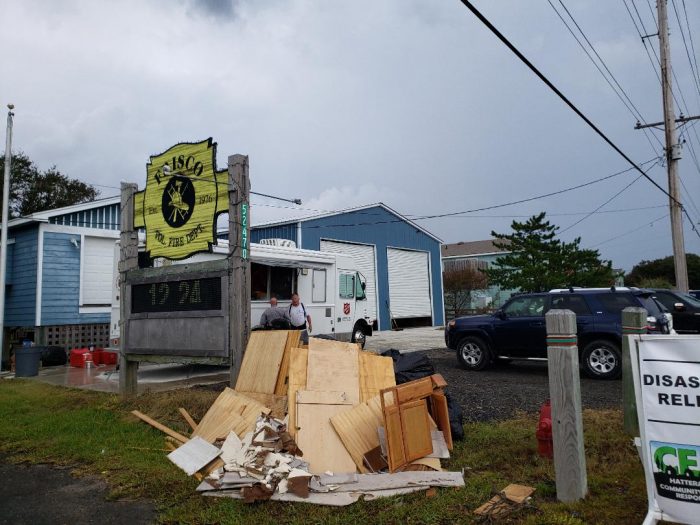 Unrestricted access to the Tri-villages begins at noon today, while unrestricted access to Avon and North Buxton will begin at noon tomorrow. Cape Hatteras Secondary School is closed on Tuesday, while the First National Bank, health center, and post office remain closed on Ocracoke Island.
The annual firefighter and first responder Cape Hatteras Lighthouse climb in memory of 9/11 is still scheduled to proceed on Wednesday morning.
Additional updates for Hatteras and Ocracoke islands as of 9 a.m. on Tuesday include the following:
Hatteras Island Updates
Unrestricted access to the villages of Rodanthe, Waves, and Salvo on Hatteras Island will begin at noon, Tuesday, September 10. Visitors are asked to check with their rental company or accommodations provider to confirm reservations before traveling to the area.
Unrestricted access to the village of Avon and northern areas of Buxton will begin at noon, Wednesday, September 11. Priority Three will remain in place for areas south of Buxton Back Road and NC 12 (NC SR 1232 at Cape Hatteras Secondary School), including the villages of Frisco and Hatteras. Visitors will not be allowed past the checkpoint at Cape Hatteras Secondary School.
The Dare County Control Group will continue meeting to determine reentry guidelines for the villages of Frisco and Hatteras. Updates will be distributed via the County's emergency alert system. Sign up to receive alerts via text, voice and email at www.darenc.com/alerts or visit darenc.com/reentry for additional reentry details.
Due to flooding concerns resulting from Monday's, Cape Hatteras Elementary School and Cape Hatteras Secondary School will be closed for all students and staff on Tuesday, September 10. All other Dare County Schools will operate on a 2-hour delay on Tuesday, September 10.
Dare County trash collection resumed its regular schedule beginning Monday, September 9. Not all areas are accessible for trash trucks, but every effort will be made to pick up trash.
Details have not been finalized for debris pickup, but as the recovery process begins, please begin piling storm related debris into FOUR SEPARATE PILES onto the right-of-way at least 30 feet from fire hydrants. Visit http://www.darenc.com/hurricanedorian/ for information on how to separate debris and to receive updates as details are finalized.
Clean-up kits and supplies are available at multiple locations throughout the island. The Fire departments in each village are generally the staging areas and the place where volunteers get their directions. Clean-up kits are available at all fire stations, with the exception of the Buxton Fire Station, so that it can be ready to respond to an emergency.
The annual VFD 9/11 lighthouse climb is still scheduled to proceed on Wednesday.
Dare County has received notice of the availability of FEMA granting funds (Flood Mitigation Assistance Program or FMA) for the elevation of homes in unincorporated Dare County. The FMA program provides funding to reduce or eliminate the risk of repetitive flood damage to buildings and structures insurable under the National Flood Insurance Program. The FMA funding is a 75% federal and 25% property owner match.
If you are a year-round resident of unincorporated Dare County and your property has experienced repetitive flooding, federal funding may be available to elevate your home to mitigate flood losses. Manufactured homes, structures elevated on a piling foundation, or structures used for commercial or rental purposes are not eligible for funding consideration. The structure must have flood insurance coverage in place at the time of application.
A community meeting on the Flood Mitigation Assistance Grant Program will be held on Tuesday, September 17 from 3:00 p.m. to 6:00 p.m. in Room 238 of the Dare County Administration Building in Manteo, NC. Applications will be accepted at this meeting or can be secured by contacting Brent Johnson at 252.475.5628 or brent.johnson@darenc.com. All applications must be received by the Dare County Planning Department's Manteo location by the close of business on September 27, 2019. Dare County will submit applications to the State of North Carolina and FEMA for review and evaluation. Submission of an application is not a guarantee of funding.
Updates on where to obtain resources as needed are as follows:
The Frisco Fire Station reported that volunteers will be at the station in the coming days to hand out cleaning supplies, trash bags, and to get names and information from people who have damages. They are also getting a list of volunteers together. Per Larry Ogden of the Hatteras Island CERT team, volunteers will be available to collect info from roughly 8:30 a.m. until 5:00 p.m. daily. The HI Cert team has roughly 55-60 members activated to help with clean-up and other recovery efforts as needed, which is in addition to dozens of volunteers from North Carolina Baptists, and from our local community.
The Avon Volunteer Fire Department has clean-up kits and drinking water available to those who had water in their homes due to Hurricane Dorian. Please stop by the department to pick up supplies and for information on what help is available. A representative of the United Methodist Men will be at the station starting to take down the names of those who need help with cleaning their homes, and work crews will be available starting Tuesday.
Food, toiletries, cleaning supplies, and other essentials are also located at St. John United Methodist Church in Avon. Residents can stop by to get what they need.
The Salvation Army will continue to provide three meals a day on Hatteras Island on at two locations: the Old PNC Bank in Buxton and the Frisco Fire Department. Mealtimes at both locations are 8 a.m. for breakfast, 12 p.m. for lunch, and 6 p.m. for dinner.
Cape Hatteras Electric Cooperative noted that they have had several reports of different visiting businesses claiming to be on the island working as subcontractors for CHEC in the wake of Hurricane Dorian. "Please note – besides Lee Electrical Construction and Hatteras Island Tree Care, we have no subcontractors working for us," said CHEC in an online statement.
A number of stores and businesses are currently open, which includes grocery stores, restaurants and gas stations. Individual business hours may be altered due to continuing recovery effort.s
Dare County is available to help Hatteras Island residents in need. Please contact the Department of Health and Human Services at 252.475.4196 if you or someone you know needs assistance. In areas of the county most impacted by the storm, relief workers will be in the field knocking on doors, but please reach out and let county officials know if you need assistance.
The 2019 Day at the Docks event, which was scheduled for September 13-14, has been canceled.
Cape Hatteras National Seashore Visitor facilities and services north of Oregon Inlet will reopen on Tuesday, September 10, at 12:00 p.m. as follows:
Bodie Island Visitor Center will be open, which includes the Off Road Vehicle permit office
Bodie Island Lighthouse will be closed for climbing
Oregon Inlet Campground will be open for camping
Off Road Vehicle Ramps 2 & 4 will be open
Folks who want to donate funds towards recovery efforts can contact the Outer Banks Community Foundation (OBCF) at www.obcf.org/disaster or the Cape Hatteras United Methodist Men, which is a local organization that has been assisting Hatteras Island for 40 years.
Checks can be mailed to:
Cape Hatteras United Methodist Men
PO Box 1591, Buxton, N.C. 27920
Checks should be marked "Hurricane Dorian Relief" and receipts will be sent. 100% of donations are used to address the needs of islanders.
Ocracoke Island Updates:
Electric service was restored on Ocracoke Island through the operation of the N.C. Electric Membership Corporation generating plant. As of Tuesday afternoon, electric service is holding steady. Meanwhile, Lee Electrical construction crews continue to repair Tideland infrastructure on the north end of the island so that Tideland EMC can return to normal operating conditions. "We know electric service is an essential element of the island's long term recovery from the effects of Hurricane Dorian," stated Tideland EMC in a social media update. "Thank you to our employees, partners and friends who faithfully work to benefit the co-op membership. In the meantime….work continues."
The Ocracoke Observer posted the following updates on services and resources Monday evening
The First National Bank on Ocracoke was flooded and will remain closed indefinitely, Judith Garrish, manager, said today (Monday).
Tideland Electric Membership Cooperative pulled the meter as part of their work going around Ocracoke Island post-Hurricane Dorian assessing the electric meters on each building. That work has not yet been finished and no information is available yet as to when power will be restored.
Trillium Health Resources personnel are on the island and will go door to door to see if people want counseling, said Laurie Potter, Hyde County Department of Social Services director. They will be on the island all week and will be at the Ocracoke Volunteer Fire Department at the medical treatment area.
The Ocracoke Health Center is closed, and medical assistance is available at the Ocracoke Volunteer Fire Department, which is the command center for all activities. The Ocracoke post office also is closed indefinitely, said Celeste Brooks, postmaster. However, UPS arrived Monday morning and FedEx will arrive Tuesday.
The Hyde County Health Department will administer free tetanus shots at 10:30 a.m. Tuesday in the Ocracoke Volunteer Fire Department.
Although Ocracoke is still under a mandatory evacuation, island residents began returning to the island today.
Tom Pahl, Ocracoke's county commissioner, said on Monday that he and Hyde County Manager Kris Noble are working on an FAQ sheet of many concerns to be available for all islanders.
A part of N.C. Highway 12 at the north end of the island washed away completely, said Bob Jenkins, an NCDOT lead worker on Ocracoke. There's no estimate as yet as to when that will be repaired.
The Ocracoke water system is functioning, but a boil water advisory is in place.
Cellular and public safety radio communications are restored. Cell phone charging stations are available in the Ocracoke Community Center.
Ocracoke remains a focus for emergency managers, National Guard soldiers, doctors, nurses and volunteer groups.
"Recovery efforts will continue so our coastal communities can recover as quickly as possible," said Gov. Roy Cooper, who visited Ocracoke on Saturday.
About 25 National Guard soldiers remain on Ocracoke supporting recovery operations, along with a medical team and emergency managers.
The N.C. Department of Insurance is coordinating the arrival of insurance adjusters to help homeowners and businesses and will also assist with a plan for collecting and disposing of the many flooded vehicles on the island.
The N.C. Department of Transportation's Ferry Division will be expanding service on the emergency route between Hatteras and Ocracoke's Silver Lake Harbor on Tuesday.
The route bypasses the closed section of N.C. Highway 12 on Ocracoke Island and takes two hours and 30 minutes for a one-way trip.
The schedule beginning Wednesday, Sept. 10, will be as follows:
Hatteras to Ocracoke-Silver Lake: 6, 7:30, 9, and 10:30 a.m., 12, 1:30, 3, and 4:30 p.m.
Ocracoke-Silver Lake to Hatteras: 9 and 10:30 a.m., 12, 1:30, 3, 4:30, 6, and 7:30 p.m.
Only high-clearance vehicles will be allowed on the Hatteras-Silver Lake route.
In addition, the Ferry Division's Pamlico Sound routes will continue to operate on the following schedule:
Swan Quarter to Ocracoke: 7 a.m., 9 a.m., 11 a.m., 1 p.m., 3 p.m., and 5 p.m.
Ocracoke to Swan Quarter: 10 a.m., 12 p.m., 2 p.m., 4 p.m., 6 p.m., and 8 p.m.
Cedar Island to Ocracoke: 8 a.m. and 2 p.m.
Ocracoke to Cedar Island:  11 a.m. and 5 p.m.
All fuel deliveries to Ocracoke should use the 9 a.m. Swan Quarter to Ocracoke departure.
At this time, access to Ocracoke-bound ferries is open only to permanent residents and personnel authorized by Hyde County Emergency Management. Re-entry restrictions for visitors remain in effect. Ocracoke residents wishing to leave the island will be allowed on any ferry departing for Hatteras, Swan Quarter or Cedar Island.
Those interested in donating goods and services are asked to email ocracokedisasterrelief@gmail.com about helping but not to purchase items before emailing.
Cash donations can be sent to either of the churches on Ocracoke by writing a check and sending it to the following places:
Ocracoke United Methodist Church
P.O. Box 278
Ocracoke, NC 27960
Ocracoke Lifesaving Church
P.O. Box 68
Ocracoke, NC 27960
The Ocracoke Observer also published an up-to-date and in-depth story on how to help residents of Ocracoke Island on Monday. Information on how to donate can be found here: https://ocracokeobserver.com/2019/09/09/how-you-can-help-ocracoke-post-dorian/