Two dredges tackle Buxton Beach nourishment; Project is 45% complete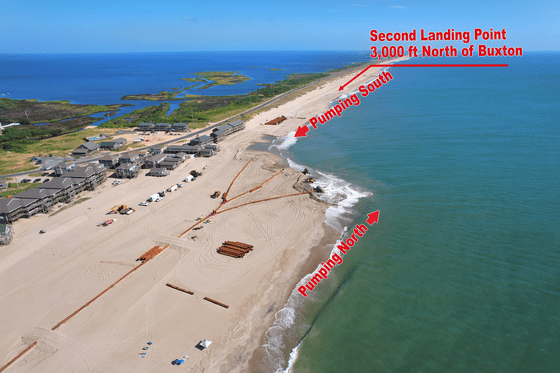 Great Lakes Dredge & Dock Co. has announced that the dredge Ellis Island has returned to Dare County to assist the Liberty Island with the Buxton beach renourishment project.
On Tuesday morning, August 2, the Ellis Island resumed dredging operations in Buxton after 10 days of work on the Town of Nags Head's beach renourishment project. The Ellis Island used the landing point that was previously being used by the Liberty Island, (located near the south end of Tower Circle in Buxton), and began pumping north in front of the Outer Banks Motel around 12 p.m. on August 2, 2022.
The Liberty Island has made steady progress since she started working in Buxton on Thursday, July 28, 2022. Approximately 800 feet of beach in front of Buxton has been nourished and opened to the public. Upon the arrival of the Ellis Island, the Liberty Island moved to another submerged pipeline located 3,000 feet north of the northern boundary of Buxton and started pumping south toward the Ellis Island.
Great Lakes Dredge & Dock Co. has placed over 540,000 cubic yards of sand along 4,000 feet of oceanfront. This volume is equivalent to approximately 45% of the total project volume. The 1.2 million cubic yard beach renourishment project is expected to be completed by late August.
The progress map in the photos below shows the completed sections of shoreline in Buxton, as well as Great Lakes Dredge & Dock Co.'s current work plan for the beach nourishment project.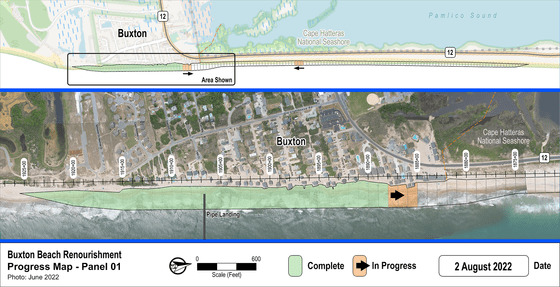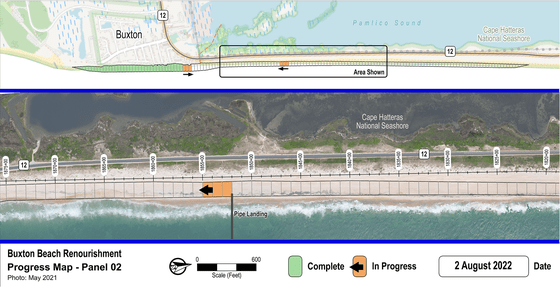 Click here to view the Buxton project map, which shows the areas of shoreline where beach nourishment has already been completed, as well as areas that are currently under construction or closed for the staging of equipment.
Visit www.MoreBeachToLove.com for the latest information about all 2022 beach nourishment projects taking place in Dare County, including projected timelines and answers to the most frequently asked questions.