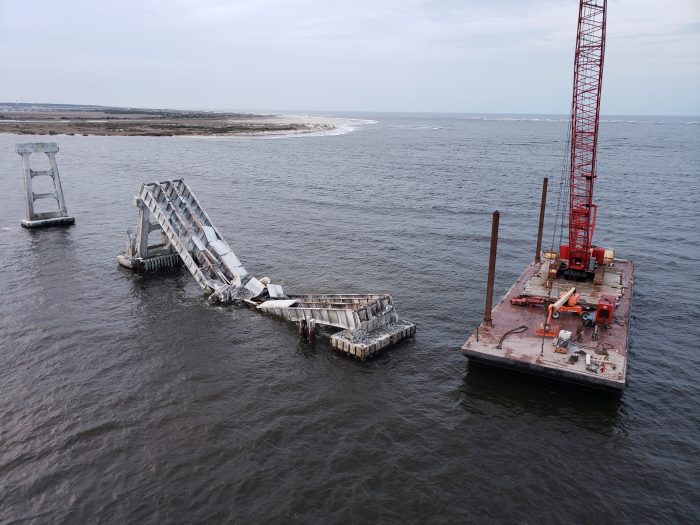 One person has died after one of the last remaining sections of the old Herbert C. Bonner Bridge collapsed on Wednesday evening, per a recent update from the Dare County Sheriff's Office and the Outer Banks Voice.
Officials are notifying the family members of the deceased, and have not released the person's name as of Wednesday evening.
Crew members from the U.S. Coast Guard Station Oregon Inlet transported Dare County EMS personnel to the site of the accident at approximately 5:00 p.m., where they pronounced the individual deceased at the scene.
One of the two remaining navigation spans of the old Bonner Bridge, which is in the final stages of being demolished, collapsed just before 5:00 p.m. on Wednesday. Reports that at least a second person may have been seriously injured in the accident have not been confirmed.
The Bonner Bridge over Oregon Inlet was replaced by the Marc Basnight Bridge in 2019, and the old bridge is in the process of being almost completely removed, with just 1,046 feet of the former structure remaining on the southern side of the inlet to serve as a fishing pier and pedestrian walkway.
The Island Free Press will post updates as soon as they are available.