UPDATE: Was there really an earthquake off Virginia Beach?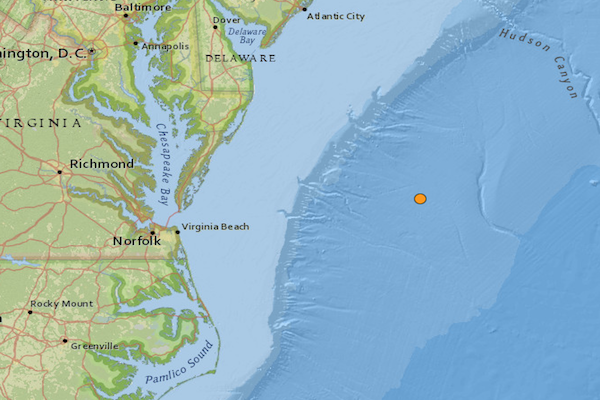 Tuesday's magnitude 4.6 earthquake off the Virginia coast may not have been a true temblor at all.
There are no fault lines or tectonic plates near the quake's epicenter, recorded at 6:30 p.m. 162 miles east of Virginia Beach.
The U.S. Geological Survey on Wednesday didn't yet have enough information to "characterize it as an earthquake," said USGS geophysicist Julie Dutton.
"We don't know yet if it could have been an underwater slide," she said. "There's not a lot of information coming out yet."
Yesterday's incident did not trigger any tsunami watches or warnings for the coast, though underwater landslides are known to cause tsunami waves.
Due to the federal government shutdown, the USGS Earthquake Center is working with limited resources, slowing research into the event. The USGS did downgrade the quake's strength slightly, from a magnitude 4.7 to a 4.6.
Whatever its origins, Dutton called it "a sizeable quake," in an area not known for seismic activity.
"It's rare to have earthquakes off the coast, but it's not completely unheard of," she said.
The USGS recorded more than 180 reports from people who felt the rumble Tuesday, mainly along the coast from south New Jersey to the Outer Banks.
Earthquakes along the East Coast aren't as frequent as those west of the Rocky Mountains, but they are felt over a much wider geographic area.