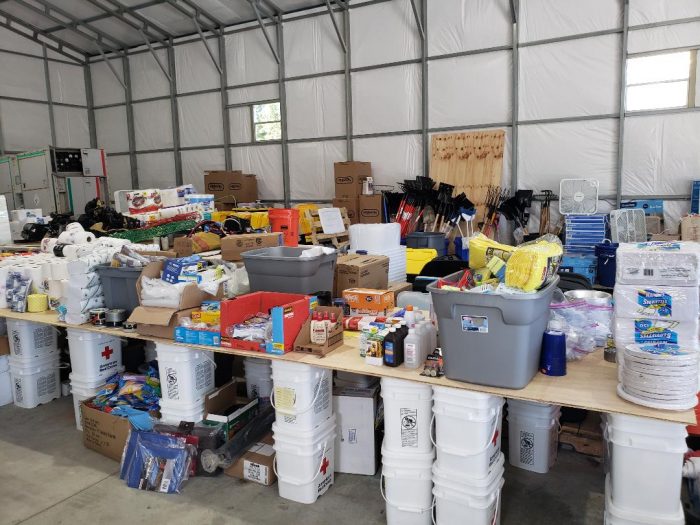 The Frisco Really, Really Free Market continues to be a primary spot for depositing donations and picking up necessary supplies for Hatteras Islanders in need, as residents shift from the cleaning stage to the rebuilding stage of post-storm recovery.
The Hatteras Island Community Emergency Response Team (HI CERT) reported that more than 70 people stopped by the free market on Wednesday alone, and the market will continue daily until at least Saturday, October 5. (Hours of operation may be adjusted for next week. The Island Free Press will post an updated schedule, if applicable, as soon as possible.)
In the meantime, the Frisco Really, Really Free Market, which is located at the Frisco Fire Station, has updated their list of especially needed donations, as of Wednesday evening.
Most requested needs at the market:
Rubbing alcohol
Pasta
Cereal (adult and child)
Laundry detergent
Dish detergent
Women's deodorant
Men's deodorant
Antibacterial hand soap
Gatorade
Ziplock bags (quart and gallon size)
Paper plates
Napkins
Body lotion
Toilet bowl cleaner
Soup (other than chicken noodle)
Individual fruit cups (peaches, pineapple, mandarin oranges)
Instant coffee packs
Canned vegetables (other than corn)
WD-40
Currently, the Frisco Free Market is only accepting items from the requested items list. They are not accepting clothing, furniture, used towels or linens, or "yard sale" items, etc. at this location.
Monetary donations and gift cards are also needed!
Checks/gift cards can be mailed to the following addresses (all are 501c3, so donations are tax deductible):
Cape Hatteras Methodist Men
PO Box 1591
Buxton, NC 27920
or
HI CERT
PO Box 35
Avon, NC 27915
Donate online via PayPal at www.interfaithoutreach.com and enter the donation comment "Hatteras Storm Relief".
Donations can also be dropped off at the Frisco Fire Station, or mailed to the following address:
HI-CERT
c/o Frisco VFD
52470 NC Hwy 12
Frisco, NC 27936
Volunteers are also still needed to staff the Free Market in order keep it going through the days to come.
Time slots are in two-hour increments, with two volunteers for each time slot. Please sign up for any time, and for any slots that fit your schedule. For more information on signing up as a volunteer, stop by the Frisco Fire Station, or see: https://www.signupgenius.com/go/9040c45abad2ba31-hatteras2
The Frisco Free Market will continue to be open this week, with planned hours of 9 a.m.-4 p.m. through Saturday.