Upgrades in Progress at Cape Hatteras Electric Cooperative's Frisco Substation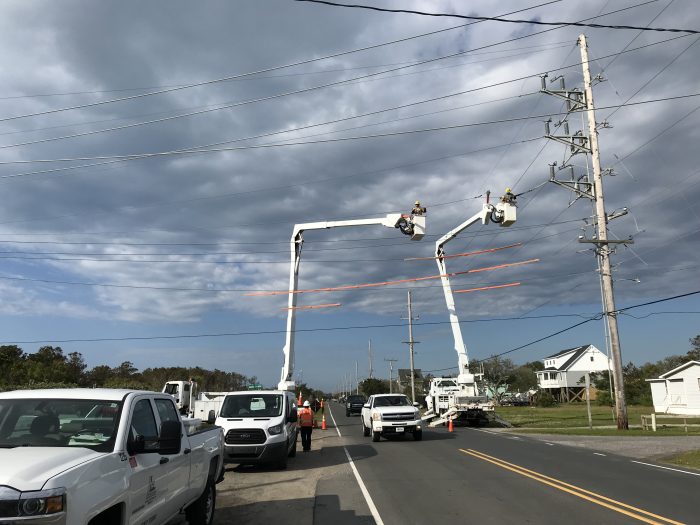 A series of upgrades are steadily progressing at the Cape Hatteras Electric Cooperative's (CHEC) Frisco Substation, thanks to hard work and a collaboration with contractor Lee Electrical Construction.
Though the contractor is based out of Aberdeen, N.C., crew members have been staying on Hatteras Island since early March to complete the sweep of upgrades that will literally enhance CHEC's power to serve the island.
"We have been making a lot of upgrades in the Frisco substation this year [and] crews have been recently working to install a new substation transformer," said Laura Ertle, Director of Public Relations and Marketing for CHEC. "This new transformer will serve the members in this area for years to come and [will] provide extra capacity for future growth."
For those who understand the technical jargon, the new substation transformer is a 12MVA, 3-phase transformer, and is manufactured in the USA by ABB out of Crystal Springs, Mississippi.
The work is expected to continue at the Frisco Substation until roughly May 15, and then upgrades will begin at the Avon substation as well, once the Frisco work is complete.
Crews have been working nonstop since arriving in early March, and islanders and CHEC are appreciative of all of their efforts to keep the island at full power for now, and for many years to come.
"They really are a great crew!" said Ertle. "[And it's] a lot of the same guys who have helped us after many a hurricane."