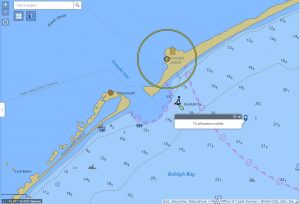 In the midst of a blustery cold front, with a coastal storm headed to the Outer Banks this weekend, members of the Dare County Waterways Commission on Tuesday were worried that the current navigable conditions in Hatteras Inlet would suffer.
Part of their concern was focused on the lapsed agreement that has delayed maintenance dredging of South Ferry Channel. To the frustration of commissioners, the document had still not been signed, and the clock is ticking on the permit.
But a new draft Memorandum of Agreement (MOA) between the state of North Carolina, Dare County, and the Army Corps of Engineers was sitting in Corps headquarters in Atlanta, and is expected to be signed any day, said Roger Bullock, deputy operations chief for the Corps' Wilmington District. The MOA snafu was not discovered until preparations were being made for the planned fall maintenance dredging.
Once the agreement is in hand, it will be a race against time to get the channel surveyed and dredged before the end of the year, when the Corps' permit for the work expires. Even if dredging is not completed, Bullock said, work would have to cease on Dec. 31.
Brent Johnson, project manager for Dare County Grants and Waterways, told the panel that the state seemed amenable to adjusting the schedule to a slightly later date for the planned March channel maintenance if necessary.
Meanwhile, the project to protect the shoreline at the ferry South Dock on the north end of Ocracoke Island has made progress, N.C. Ferry Division environmental supervisor Lance Winslow told the panel. Sheet pile will be installed over the next two weeks, he said. A survey of Sloop Channel is also planned next week. But challenges from the winter weather could slow the schedule, he added.
"I tell you, right now with that environment there, we're doing as much as we can handle," Winslow said.
Once the 1,000-foot sheet pile installation is completed, Winslow said that the project will likely be put aside until conditions improve in the spring. At that time, the concrete caps – which can't have water on them – will be put in place. The Ferry Division is also still working with engineering firm Moffatt & Nichol and the National Park Service on plans to design and permit a yet-to-be funded groin project that would protect the ferry stacking lanes at South Dock, Winslow said.
In another update, Ken Willson, engineering contractor with Wilmington-based Aptim Coastal Planning & Engineering of North Carolina Inc., told the panel in a telephone conference call that dredging of the Manteo Channel has again "ran into some issues."
Shoaling at the intersection of the Pamlico Sound and Shallowbag Bay has prevented the state-owned Elizabeth II, a representative 16th-century sailing ship, from getting its annual maintenance. The wooden ship has been unable to leave its dock in Dough's Creek alongside Roanoke Island Festival Park since early 2016.
Although the state provided about $2 million in 2018 for the area to be dredged, the project has been stalled because of complications in finding a suitable disposal site for the dredged material. Also, the dredging must be done in the winter months to avoid the spring and summer turtle nesting seasons.
As a result of the most recent delay, the Elizabeth II will almost certainly miss another year of its maintenance unless another way is devised to get it to the Manns Harbor shipyard.
Willson said that a disposal site located in Manteo behind the CVS, owned by Harbinger Land and TImber, LLC and Dare Development Opportunities, LLC, had been selected. But testing revealed that the dredged material was finer than anticipated, Willson said, and was found to have "some levels" of heavy metals.
"It's not that big of a deal if we pump it to a containment site," he said.
Now, the engineers are considering a plan to remove the material with a mechanical dredge instead of a pipeline dredge, and dump the material onto a barge. The sand would then be taken to a location where it can be loaded onto a dump truck, which would then haul it to the chosen disposal site.
In an email, Johnson said that the site behind CVS is not off the table.
"We are exploring all options to ensure we execute the project in the most efficient manner," he wrote.
Johnson said that Willson is scheduled to attend the Dare County Board of Commissioners meeting on Dec. 16 to discuss a proposed county-wide dredge management plan, which will include disposal site issues.
Also on Tuesday, in a powerpoint presentation by Kyle Ward, Southeast Navigation Manager for National Oceanic and Atmospheric Administration, commissioners learned more about NOAA's plan to discontinue publishing paper navigational charts and replace them with sophisticated digital charts that can be integrated with other source data and quickly be updated online.
NOAA had selected Oregon, Ocracoke and Masonboro inlets as test locales for the new mapping system, Ward told the commissioners. So far, Ocracoke and Masonboro inlets are online, and Oregon Inlet will be completed in about a week.
"If you've got paper charts, they'll be great as collectors' items," he said. "This will be the only version when paper dies."
Ward said the electronic navigational charts will incorporate Coast Guard information on buoy locations and Corps surveys of channels and other data from its eHydro online system.
"What you're getting is increased coverage at scale," he said. Although the new charting so far had not included Hatteras Inlet, Ward suggested that a request be made to NOAA.
Commission Vice-Chair Ernie Foster said it would make sense for the waterway plied by the busy Hatteras-Ocracoke ferries to have a digital update of its navigational chart.
"It just seems to me that if you have the biggest ferry route in North Carolina, it kind of matters," he said.
The Waterways Commission vote unanimously in a motion to request NOAA include Hatteras in the digital charting.
It'll be a great way to broaden the availability of information on Hatteras Inlet, especially for out-of-town mariners who are unfamiliar with the inlet, Waterways Commission Chairman Steve "Creature" Coulter said in an interview after the meeting.
"We've got so much data that could be used, but it isn't used," he said, adding: "It's like having a road map and we don't have a road map for Hatteras Inlet."
But just like with maps, it's nice to be able to ask for insight from those that use the waterway every day.
"Nothing replaces local knowledge, and anybody who's traveling should try to get as much local knowledge as they can," Coulter said. "But the charts help."
In addition to Foster and Coulter, as well as representatives from the Corps, the Coast Guard and the Ferry Division, attendees at the meeting at the Dare County Administrative Building in Manteo included members Dan Oden, Natalie Kavanaugh, Michael Flynn and Kermit Skinner.