'Welcome to the Outer Banks' sign stolen from Bodie Island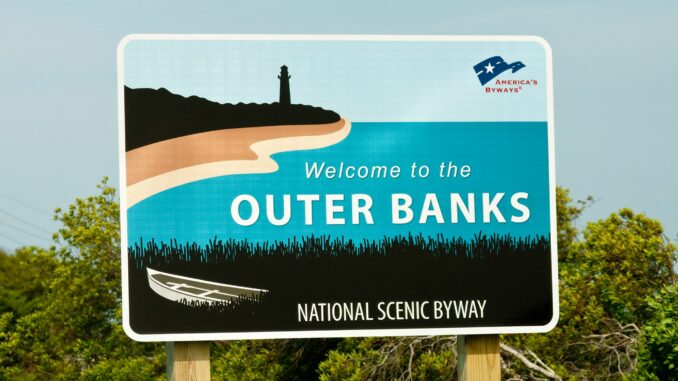 Thieves recently stole the "Welcome to the Outer Banks" sign heading into the Cape Hatteras National Seashore from Nags Head.
The Outer Banks Scenic Byway sign welcoming visitors heading south from Whalebone Junction to Bodie Island vanished sometime last week, said Mary Helen Goodloe-Murphy, a local journalist and community activist who served as chair of the local scenic byway committee.
Local photographer Wes Snyder took a photo of the sign missing from its wooden post this past Saturday.
The sign, worth about $880, was placed along with several others in 2016. And many of the others, including a "Welcome to Hatteras Island" sign, have been stolen over the years. The signs were intended to mark entrances to the byway, points of interest and other unique elements visitors may like to see, Murphy said.
The route was designated a national scenic byway in 2009, one of 150 across the nation at the time. The byway extends for 138 driving miles and 25 ferry-traveling miles, crossing Cedar Island, Ocracoke Island and Hatteras Island. The route also crosses two inlets as well as 21 distinct coastal villages along the way, according to the byway website.
Goodloe-Murphy said the byway committee is in the process of replacing stolen signs. But they do ask that anyone who might come across one discarded or for sale somewhere to contact them. In the past, she said, one turned up at a second-hand shop in Raleigh.