Though there has been significant progress over the past two weeks in removing the major pieces of debris from mid-May's two home collapses, there is still a lot of work to be done to clean the Rodanthe shoreline and beyond.
"It's going to be a continual effort, and it will take many more weeks," said David Hallac, National Parks of Eastern NC Superintendent. "It's possible that we will never be able to remove all the debris from these homes collapsing, as they have broken up into so many pieces, and have spread far and wide."
"The big stuff has been removed, and now the remaining problems are buried debris and smaller pieces of debris that are the size of an arm, a hand, or even a finger."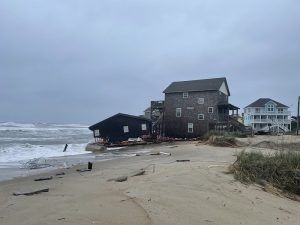 One of the biggest concerns as clean-up efforts continue is smaller pieces of plywood, wood trim, and other particles from the former homes that may still have embedded nails or sharp edges. These pieces are close to Ocean Drive in Rodanthe, where the home collapses occurred, but they have also been spotted up to 2.5 miles away from the site.
"Many of these pieces of wood are buried in 1-2 inches of sand," said Hallac. "It may appear that the beach is clean, but if you put your fingers in the sand, you'll see that there is still debris remaining."
All beaches in the Tri-villages are currently open for visitors, but beachgoers are advised to wear hard-soled shoes or sandals when hitting the sand, especially along beaches that are close to the site of the collapses.
The two most recent home collapses occurred on or around May 10, during the height of a multiple-day nor'easter that impacted the Outer Banks and closed N.C. Highway 12 north of Rodanthe for approximately three days.
The first home, a 4 bedroom, 3.5 bathroom house that was built in 1985, collapsed sometime overnight before Tuesday morning, May 10. The second home, a 4 bedroom, 2.5 bathroom house that was built in 1980, collapsed midday on Tuesday, and a real-time video of the collapse became viral and made headlines around the world.
There have been a total of four Rodanthe homes that have fallen into the ocean over the past two years, with the other two incidents occurring in February of 2021 and May of 2020.
Per a March 2022 public meeting hosted by the National Park Service, there are approximately 9 additional homes in the Rodanthe area that have the potential to collapse in the not-so-distant future as well.
When all of these homes were originally built in the late 1970s to mid-1980s, they were protected by a vegetated dune line and were more than 400 feet away from the ocean, (similar to oceanfront homes in Salvo and northern Avon, as well as other regions of Hatteras Island.) However, steady erosion over the past 30-40 years has created a situation where these properties are dangerously close to the ocean, and are at continual risk of being destroyed with every storm.
As reported at the March public meeting, both the National Park Service and Dare County have been in contact with the homeowners of these threatened properties to encourage them to initiate a plan to move or remove their homes before they fall into the ocean.
"Our special permitting staff have contacted all of them to let them know that if the home collapses and you need a permit to go out on the beach and clean this up, here's how you get it, here are all the conditions, and you can apply for it before collapse," said Hallac at the meeting.
Meanwhile, the clean-up from these mid-May home collapses continues in earnest as a collaborative effort between the individual homeowners and the National Park Service (NPS).
W.M. Dunn Construction, LLC of Powells Point, N.C., was hired by the owners of the collapsed houses at 24235 and 24265 Ocean Drive, and the company has worked on cleaning up debris since the day after the collapses.
In addition, ten members of the Eastern Incident Management Team, comprised of National Park Service employees from North Carolina, Florida, Georgia, Tennessee, and Washington, D.C., arrived last week to provide cleanup support. The team, along with NPS staff, has been using front-end loaders, dump trucks, and other heavy equipment to move tons of debris from Rodanthe to Avon.
The NPS has also hosted a total of eight volunteer clean-ups, resulting in 125 volunteers contributing 215 hours of official volunteer assistance. This is in addition to the many unaccounted hours that were contributed by people outside of the organized beach cleanup events, especially by Hatteras Island residents who were able to travel to Rodanthe while N.C. Highway 12 was closed.
The beach adjacent to Ocean Drive, (which was closed to the public immediately after May 10), is now open to visitors, and no future shoreline closures are expected.
Regardless, with many smaller pieces of debris still remaining along the shoreline, which may be hidden just under the surface, beachgoers are advised to use caution as clean-up efforts progress.
"My understanding is that the work from this point forward is tedious and difficult, as there are many small bits of trash, and you have to be on your hands and knees to see them," said Hallac.
"We felt a compelling need to begin significant clean-up immediately after the collapse, as there is so much debris that it is affecting our park, and our visitors, and our [clean-up] efforts will continue."
Additional volunteer clean-up events may be scheduled in the future, and the Island Free Press will post updates on organized events as they become available.