Widow brings mission to prevent rip current deaths to the Outer Banks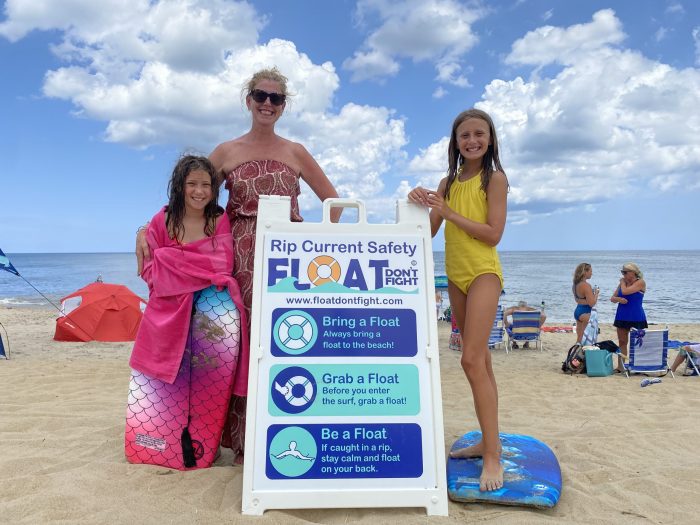 Swim parallel to shore. Yell for help. Wave your arms.
Ali Joy, from Ashland, Va., could do none of those things as she and her husband Austin struggled in a rip current off Atlantic Beach trying to save their twin 7-year-old daughters.
She and the girls eventually made it out alive, but 46-year-old Austin Joy did not.
In the aftermath of her husband's death on Father's Day weekend in 2018, Joy said she realized she and the girls survived in part because a Marine on shore shouted to them to float.
"The advice in rip currents is to wave and call for help," Joy said Sunday afternoon as her girls, now 10, played on the beach in Kill Devil Hills. "I was rescuing two 7-year-olds who were on top of my head. I couldn't wave, I couldn't yell and I certainly couldn't swim parallel.
"When I'm looking around and [the girls are] screaming 'we're gonna die' and I'm trying to think 'what on Earth am I gonna do?' one of the Marines who helped save us yelled 'float on your back!' I started screaming to the girls, 'float on your back, float on your back!' I honestly don't think we would have made it if he wasn't able to give us that command until they got to us with surfboards."
Three months after her husband died, Joy launched the prevention mission "Float Don't Fight," and has spent the past three years spreading her safety message as far as she can.
She and the twins, Mary and Ryland, were on the Outer Banks this weekend with magnets and signs and giveaways to educate beachgoers at the Kill Devil Hills Ocean Bay access.
The message is simple, a sort of "stop, drop and roll" for rip current safety, Joy said.
Bring a Float: Always bring a float to the beach!
Grab a Float: Before you enter the surf, grab a float!
Be a Float: In a rip? Stay calm. Float on your back.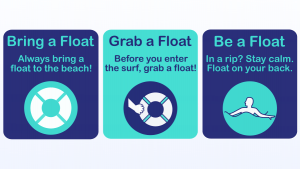 June 15, 2018 had been an idyllic vacation day.
The Joys, married since 2006, surprised their three kids with a trip to Atlantic Beach for the family's annual end-of-school-year trip. They spent the day picnicking and shell hunting on the Shackleford Banks and had a seafood dinner at a local restaurant.
It was still early, with hours of daylight left, and the kids wanted to go back to the beach. So off they went, along with hundreds of other families doing the same thing. Lifeguards were off duty and no warning flags were flying, but the beach was crowded and the mood festive.
Moments after they arrived, Austin Joy looked out and said "the girls are too far."
They both ran for the water. On shore, the couple's 10-year-old son Charlie sought help from beachgoers.
"We got to them and just felt relief. He handed one of the girls to me, and then we couldn't touch. At some point he went out of the picture and I had both girls. And I realized that we were all in trouble. I remember looking at the shoreline. You can't call for help when you're using all of the air in your lungs to stay afloat."
As rescuers on surfboards arrived, Joy found her husband again.
"What's weird was, then I did see my husband … but he wasn't with us anymore," she said.
Austin Joy was a Richmond native and College of William and Mary graduate who worked as a commercial real estate broker. He loved painting, cooking and being by the sea.
As Joy talked about her husband Sunday afternoon, a group of dolphins popped up just past the surf and she caught her breath.
"When we scattered his ashes, the dolphins did not leave us," she said. "They went back and forth the whole time we were there."
Joy described her husband as elegant, smart and compassionate.
"If he was your friend you had the world on your side," she said.
With a lot of help, the couple's children don't fear the ocean and still love the beach. They feel closer to their father there.
"He was a protector. He's still with us, we still feel his presence," Ali Joy said.
Her husband's legacy, she believes, should be saving lives through her family's story.
Rip currents kill more people each year than tornadoes, lightning and sharks combined. But it can be preventable if you remember "Float Don't Fight."
Always bring a flotation device when you go in the ocean. If you go into the water to rescue someone, grab a float. And if you find yourself caught in a rip, float on your back until help can arrive.
For more information, see floatdontfight.org