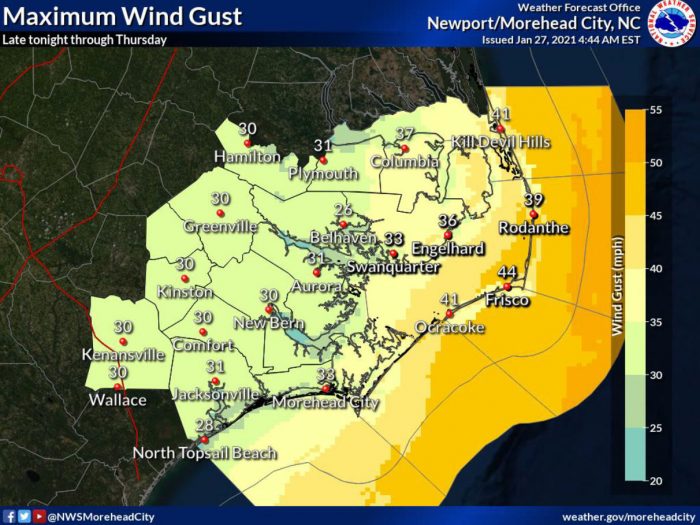 A Wind Advisory, Coastal Flood Advisory, and Gale Warning have been issued ahead of a coastal storm that is expected to impact the Outer Banks starting on late Wednesday night, and ferry operations may be impacted, per a recent update from the North Carolina Ferry System.
Per the National Weather Service Newport / Morehead City office, a low pressure system strengthening off the North Carolina coast will bring the potential for strong winds and minor coastal flooding, as well as the potential for minor snowfall accumulations in portions of Eastern N.C.
Gale force winds and seas reaching 7-10 ft will produce very dangerous conditions for mariners. Strong winds, with gusts to 40-50 mph, are expected along the coast, blowing around unsecured objects and bringing the potential for a few isolated power outages.
The N.C. Ferry System has cautioned that the strong wind gusts could affect operations on Thursday in a recent social media update.
"We're expecting some big winds along the NC Coast tonight and tomorrow, so there could be schedule interruptions on some ferry routes, especially along the Outer Banks," stated the update from the N.C. Ferry System. "There may even be a little wintry precipitation in the mix, so drive carefully, especially on bridges."
On the mainland, rain may transition to a wintry mix or snow late Wednesday night. The greatest accumulation chances are north of U.S. Hwy 264, but minor accumulations are possible for much of the Eastern N.C. area as well.
The Gale Warning, Coastal Flood Advisory and Wind Advisory are all in effect starting at 12:00 a.m. on Thursday.
For more information on the local forecast, visit www.weather.gov/mhx for weather information, or the National Weather Service office in Newport / Morehead City's Facebook page at https://www.facebook.com/NWSMoreheadCity/.