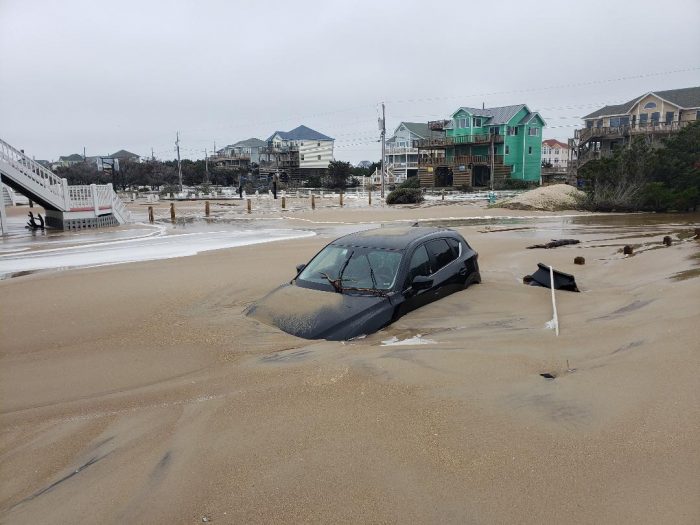 Though high winds and heavy rains had diminished by Monday afternoon as the low pressure system moved away from the Outer Banks area, Monday morning's high tide brought a new wave of ocean overwash in vulnerable areas where dunes had been breached or destroyed.
Northern Hatteras village, northern Buxton, central Avon, and north Rodanthe and Pea Island all reported ocean overwash on N.C. Highway 12 with the morning's high tide, and many neighborhoods bordering the ocean had damage due to the multiple cycles of oceanside flooding. Standing water and / or piles of sand remain on the roadways in all of these locations.
Overwash remains a concern with this evening's high tide, as the low pressure system continues to move off to the New England region. Tonight's high tide is at around 11:30 p.m. – 12:00 a.m.
Per the National Weather Service (NWS) Newport / Morehead City office, a High Surf Advisory continues north of Cape Lookout through early this evening due to the continued large ENE swells. These swells are forecasted to gradually subside tonight. Water levels remain high along the coast in wake of the weekend nor'easter, but expect to see water levels gradually subside over the next 24 hours.
The latest buoy observations are showing N/NW winds of 15 knots or less, and seas 6-11 feet with the highest seas north of Cape Hatteras. Small Craft Advisories continue for all coastal waters for high seas as long period large swells will take their time to subside. Seas are forecasted to become 4-6 ft. by Tuesday afternoon.
N.C. Highway 12 is still closed between Rodanthe and Oregon Inlet as sections of the road are covered with sand and water. N.C. Department of Transportation crews are assessing impacts and are continuing to clear the road of sand caused by dune breaches between Rodanthe and Oregon Inlet. Officials are not sure when it will be safe to reopen N.C. 12., however, DriveNC.gov stated that the highway is expected to reopen by Wednesday at 3:00 p.m.
For more information on the local forecast, visit www.weather.gov/mhx for weather information, or the National Weather Service office in Newport / Morehead City's Facebook page at https://www.facebook.com/NWSMoreheadCity/.