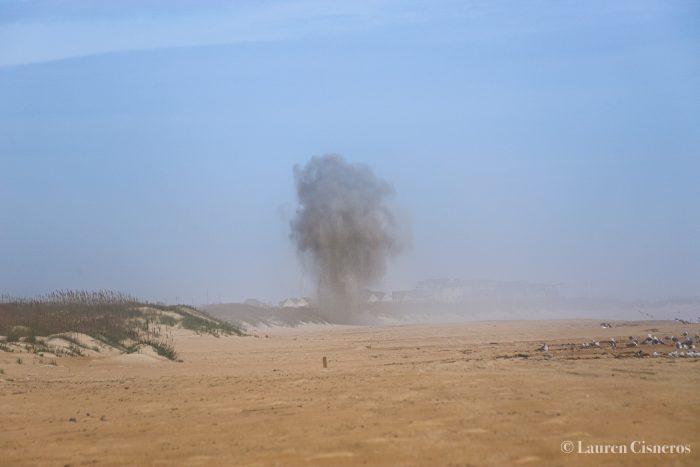 A 100-pound aerial bomb from the World War II-era, which was discovered on a Buxton beach on Thursday morning, has been successfully detonated by a U.S. Navy Explosive Ordnance Disposal (EOD) unit, per a Friday afternoon update.
The three-person EOD team reported that there was a dull thud and sand tossed into the air approximately 60 feet. The EOD unit used a combination of explosives to detonate the ordnance, including C-4.
Cape Hatteras National Seashore maintenance staff are working to cover the hole left behind by the detonation. All beaches in the immediate area, which were temporarily closed, have reopened to the public.
"Cape Hatteras National Seashore appreciates the significant efforts and expertise provided by U.S. Navy EOD Detachment Norfolk," stated David Hallac, Superintendent, National Parks of Eastern North Carolina. "Their immediate response helped protect visitors and nearby structures."
The ordnance was first discovered by a Hatteras Island resident who was walking their dog near the Old Cape Hatteras Lighthouse site on Thursday morning. After notifying authorities, the U.S. Navy EOD was called to the scene to examine the object.
On Thursday afternoon, the U.S. Navy EOD unit from Norfolk, Virginia, confirmed that the object discovered on the beach near the Old Lighthouse site was a live military ordnance.
The EOD unit placed the unexploded ordnance (UXO) deep inside the beach near the Cape Hatteras Lighthouse Beach Access parking area in order to safely detonate the bomb. The procedure was originally scheduled for Friday morning, but was delayed due to a structural fire in the Buxton area.