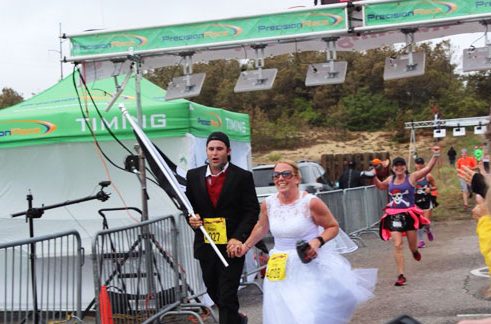 If you were nervous and sweating walking down the aisle at your wedding, then just imagine if that aisle was a little more than 13 miles long… and also, instead of walking, you were running.
That was exactly the scenario when Matthew and Melinda Cartwright donned their wedding attire, laced up their wedding-themed black and red sneakers, and took off running during the Flying Pirate Half Marathon in a race to the finish, and inevitably, matrimony.
The couple, who had met while they were both coaches for GO FAR (Go Out For A Run), and who were both avid runners, decided to get married at the finish line of the Flying Pirate Half Marathon after running the full race – a unique move that was actually a perfect fit for Matthew and Melinda.
"Four weeks after we met, we ran our first marathon," says Melinda, "and he proposed to me at mile ten of the Outer Banks half marathon in November, with all our family and friends there. So when we were trying to find a location for our wedding, and kept hitting walls, I said 'let's just run the half marathon and get married at the finish line.'"
"It was half a joke at first, and then we thought, 'that's so us!'"
So run they did, in a full white dress and veil for the bride, and a full tuxedo for the groom, attracting plenty of attention along the way from their fellow runners.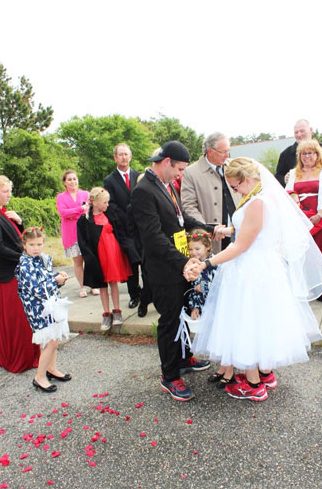 "The response was amazing," says Melinda. "People were like 'The altar must be the other way, if you're running in this direction!" or 'Runaway bride!' We laughed and said, 'we're actually running towards our wedding, and not away from it!'"
Countless runners and spectators took selfies with the couple mid-motion, and even the race officials took a moment away from their duties to snap a photo or two. But the road to the aisle – like most weddings – wasn't always smooth sailing.
"The first mile it rained on us, so we got all wet, and then it was so hot," says Melinda. "'I felt bad for [my husband] because he had long sleeves on under his tux. Then, that last 3-4 miles of the marathon is all hills and hiking trails, and it was muddy… but somehow the dress managed to stay clean."
"One other runner said 'I'm filthy! How the heck is your gown so sparkling white?' I didn't know. I figured it would be filthy coming out the woods, but not at all."
There was no pause in the action when they reached the finish line, either.
As soon as they arrived, Melinda's oldest son met her at the finish, handed her the bouquet, and they walked a few yards to where her soon-to-be husband, a pastor, and all of their friends and family in wedding attire were waiting.
The couple's combined six children – Esme 4, Janie, 6, Gabby 9, Noah 11, Emmiline 13, and Josiah 16 – were all attendants in the wedding, and in addition to the family and friends who met them at the finish line, the couple was greeted with plenty of impromptu spectators.
"There were so many people we didn't even know who were at our wedding," says Melinda. "A lot of people we met along the course joined us at the finish line."
Still decked in their wedding attire and their newly acquired finishing medals, the couple said their "I Dos" and then headed to the Hatteras Village Civic Center for the 6:00 p.m. reception. And that's when the festivities began to get even more interesting, and even more fun.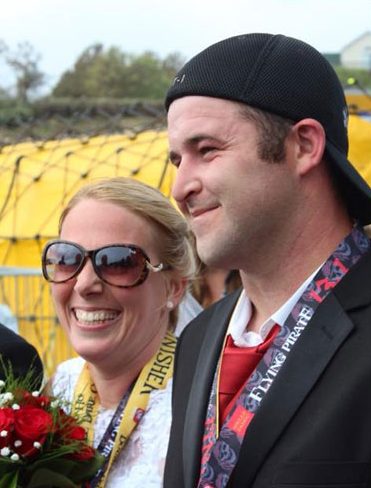 "When you have six kids, you want the reception to be fun for them, so we told all our friends – 'Be sure and bring your kids!'" says Melinda. "We ended up wondering if we would have more kids than adults."
Guests feasted on classic southern fare including pulled pork, sweet tea and beer, while the kids stayed busy at the huge candy bar designed just for them. There was also an array of crayons, markers, and tables lined with paper so the kids could color and have fun.
"Instead of a guest book, we also had people use sharpies and sign the flag we carried [during the race] at the wedding," says Melinda.
The pièce de résistance at the reception, however, was the wedding dance.
Just as the couple was swaying to their slow wedding song, "A Little Unsteady," the music changed to the Mission Impossible theme, and the children busted out from hiding places with Nerf guns blazing.
"We basically had a Nerf gun war in the middle of the dance," says Melinda laughing. "And we had strategically placed Nerf guns all over [the reception hall] so people could join in."
"Our friends are already calling it the 'Nerf Gun Wedding,'" she adds.
But that's not all their guests are saying. Many attendees have commented that it was one of the most fun and comfortable weddings they've ever been to, and surely with a race to the altar followed by a Nerf gun finale, it's one of the most memorable for guests as well.
And if you think that after such an active wedding, the Cartwrights are surely intending to relax and take it easy for their honeymoon, think again.
On Sunday afternoon, the couple was headed for Hot Springs outside of Asheville in the NC Mountains to start on their next adventure as a married couple.
"We're actually hiking to the top of the mountain and doing our wedding pictures there," says Melinda.  It's going to be a three mile hike from where we're staying, and we'll be doing it in our [wedding attire]."
"It might be a little different, but it's definitely us."