Hatteras Island Real Estate: What's behind the surge in Hatteras Island visitors?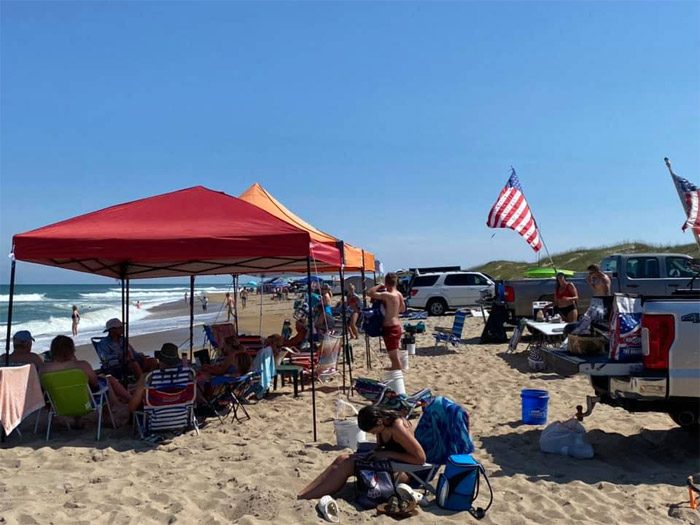 One of the most frequent topics of conversation these days is the number of visitors that are on the island. Comments range from long lines at restaurants to difficulty getting onto Highway 12 from side streets to fully booked rental accommodations. Are these just anecdotal impressions or is there substantive data to back up our day-to-day observations, and, if the perceptions are valid, what are the underlying causes?
The reality is that the surge in real estate sales that ha taken place since May of last year has been accompanied by an equally impressive growth in the volume of visitors. Through May of this year, occupancy taxes collected by Dare County from Hatteras Island rental cottages, campgrounds, bed and breakfast businesses, etc. were up an amazing 326 percent over the same period in 2020! In addition, the Cape Hatteras National Seashore hosted over 900,000 visits in the first five months of 2021 – the highest level of visitation to start a year on record!
What are some of the reasons that so many people are suddenly choosing to visit our remote corner of the world 30 miles off the North Carolina mainland?  The answer to this question has a variety of dimensions.
One of the explanations is that with the COVID-19 restrictions many people could work from home and children were taking classes online. This meant that individuals and families could work from any place that they chose. Quite a few selected Hatteras Island.
Also, once the stay-at-home restrictions associated with the pandemic were lifted, families that may not have seen each other for a year or more took advantage of the opportunity and booked vacations together to celebrate reunions with their loved ones.
Another more practical observation is that Hatteras Island is a drive-to destination from many locations along the east coast and from the mid-west.
One of the most powerful underlying explanations for the increases that we are seeing is the unprecedented positive national press coverage that the Outer Banks and Hatteras Island have experienced. Consider these endorsements recently summarized in an excellent article in com magazine –

–   Forbes Magazine 2020 named the Outer Banks of North Carolina the Number 1 destination to visit in the United States.
–   Yahoo Finance listed the Outer Banks at Number 2 among top search destinations behind Yellowstone and tied with Disney World.
–  Airbnb placed the Outer Banks Number 1 in the top 20 destinations and Number 1 in the top beach destinations.
–   Dr. Beach in his "2020 Top 10 Beach List" ranked the Ocracoke Lifeguarded Beach at Number 2 and the Lighthouse Beach in Buxton at Number 5.
–  These are just a few of the many recommendations that our area has received.
While this article focuses on Hatteras Island, the explosion in visitors is occurring in many, if not most, vacation destinations. I just read an article which said that the island of Maui in Hawaii is having serious parking issues in the village of Lahaina; the road to Hana is near capacity early each day; and, some restaurants are only serving guests who have reservations.
There are some who believe that the volume of this year's visitors may moderate somewhat as workers return to their offices, and children return to the classroom. The bottom line is that for better or for worse we have been discovered, and as you well know, once you visit Hatteras Island, it becomes a part of you, and you have to keep coming back!
——————————————————————————————————————–
Questions and comments may be sent to Tom Hranicka at PO Box 280, Avon, NC 27915 or by email to hranicka@hatterasisland.com
Copyright © 2021 Tom & Louise Hranicka.  All rights reserved.