In pandemic year, 2020 occupancy revenue exceeds 2019 numbers by 11%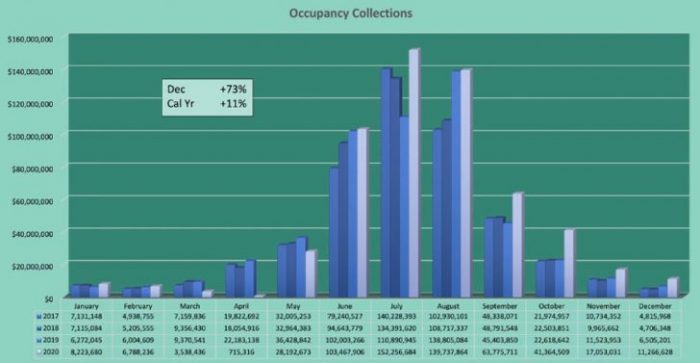 Some sectors of the local economy suffered a COVID pandemic recession in 2020. But that sure isn't the case for one part of Dare County hospitality industry. The Dare County Tourism Board has just released its occupancy revenues for December 2020 and the results are clear.
The pandemic year turned out to be a boom year.
In December 2020, occupancy collections totaled almost $11.3 million, up a whopping 73% from the December 2019 total of $6.5 million. (As recently as 2018, that number was only $4.8 million.)
Moreover, despite the pandemic-related closure of Dare County visitors for two months this spring, the 2020 occupancy revenue for the full calendar year topped the total 2019 numbers by 11%.
Looking at it another way, in the second half of 2020 (July-December), occupancy revenue exceeded that from the second half of 2019 by almost $90 million dollars.
The story was different for the restaurant industry, which faced a number of challenges in 2020 — including being temporarily limited to take out and delivery service and then facing capacity limits that are still currently in effect.
Even so, for December 2020, meal collections were a very respectable $10.5 million, just 4% lower than a strong December 2019 when almost $11 million was brought in.
For the 2020 calendar year, those meal revenues were off 16% compared to 2019. The industry here was hit particularly hard from March through August, but rallied after that, exceeding the 2019 totals in September, October and November and coming close to equaling the December numbers.
Given initial fears about the negative impact of COVID in the hospitality industry, it's hard to disagree with the assessment of Lee Nettles, Executive Director of the Outer Banks Visitors Bureau, who characterizes the numbers for 2020 as "pretty extraordinary."