January OBX Real Estate Update: 2021 year-end OBAR stats
The Outer Banks real estate market wraps up the year with the highest number of sales in MLS History!

The year-end stats
Counting all property sales 4,392 units were sold, a 17% increase of 2020. The December Statistical Report for the Outer Banks Association of REALTORS®, just released, also highlights the continuing issue with record-low inventory. We'll deal with that below. First, the hot sales!
Total residential sales volume broke through the 2 billion dollar mark to end the year at $2,095,414,391, a 49% increase over 2020. Land sales volume is up 88%, and commercial volume is up 97%.
Residential unit sales year-to-date total 3370, up 9% over 2020 and 58% over 2019. The year-to-date residential median sales price is now $485,454, an increase of 16% over last year and a 44% increase over 2019. The year-to-date average sales price rose 48% over 2020 to 619,839, an 84% increase compared to 2019's figure of $337,638.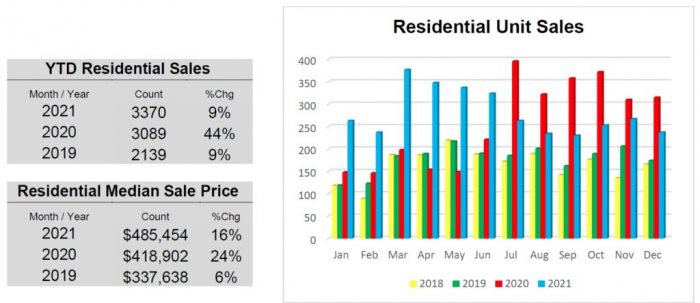 Yearly lot/land sales, which total 968, are up 54% for 2021 and were up 45% in 2020. Compared to 2019 that is a 123% increase. The year-to-date median sales price is $110,242, an increase of 15% over last year, and 34% compared to 2019. The average sale price is up 26% over last year to $159,596, a 31% increase over 2019.
Inventory and market pace
Historically low inventory is a continuing issue that will likely be a factor moving forward. On the day the data was retrieved by OBAR (Jan. 7) there were 311 active residential listings, compared to 560 in 2020, a decrease of 44%, That number in 2019 was 1341 representing a decrease of 75% when compares to 2021.