July occupancy revenue sets record, meal money lags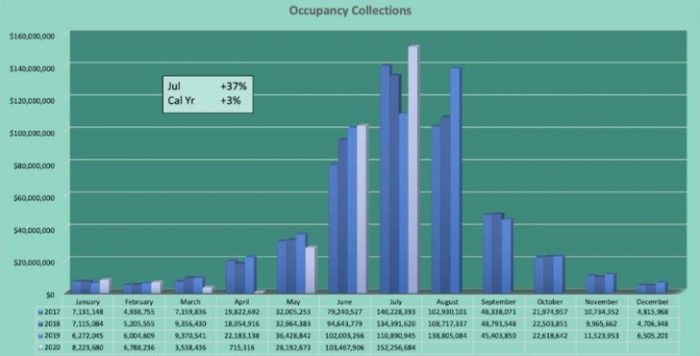 Here's more evidence of the strength of the tourism boom this summer. The July 2020 occupancy revenue numbers released from the Sept. 17 Dare County Tourism Board meeting show $152.3 million in occupancy revenue that month. Not only is that a huge 37% increase from the July 2019 numbers, it is a single-month record for Dare County. And despite the two-month shutdown of the county to visitors earlier this year, 2020 occupancy collections are already up 3% year-to-date over 2019.
Even the usually low-keyed Outer Banks Visitors Bureau Executive Director Lee Nettles described those results as "unbelievable."
It is a different story, however, when it comes to meals collection this summer. Due largely to capacity restrictions resulting from the need to social distance during the COVID-19 pandemic, there was $37.5 million in meals collections in July 2020, which is 21% lower than the July 2019 numbers. And for the year to date, 2020 meal collections are down 30% from last year.