Paint a Happy Outer Banks Inspired Home Office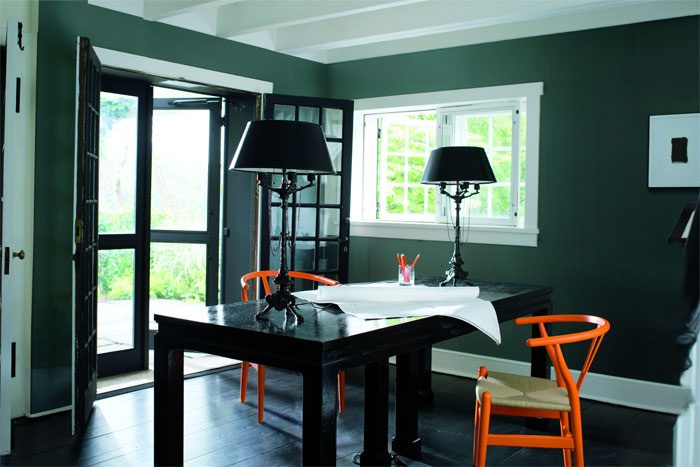 Westlake Ace Hardware now carries Benjamin Moore premium paints in its 138 stores nationwide. Since 1883, Benjamin Moore has remained a top premier paint brand for do-it-yourselfers and professionals alike, offering customers high quality and more than 3,500 premium color options.
As part of the partnership with Benjamin Moore, Ace Hardware is now the largest independent hardware retailer to carry Benjamin Moore paints – which are not available in any national big box or discount retailers. ."
A Stylish and Functional Home Office
With more people than ever working from home, many are wanting to create a workspace that boosts creativity and productivity without sacrificing style. But creating an inviting and functional home office need not be a daunting task, says Sharon Grech, Benjamin Moore color and design expert. She offers the following tips:
Stay colorful from nine to five. Bold, dark colors work well in an office environment, provided the room is well lit with overhead and task lighting. A color like Knoxville Gray HC-160 in an eggshell finish will add bold dimension to a space and help channel creative energy. *Note to media: A photo of a home office painted with Knoxville Gray HC-160 is attached.
Get inspired with accessories. Favorite decorative pieces, pictures or motivational typography art help create a space that is inspirational, happy, and buzzes with positive energy.
Rest comfortably. The most important feature in any home office is the chair. When selecting it, remember that comfort is essential because it will help keep you focused. To further boost productivity and your overall mood, position it near a window to take advantage of natural light.
All Benjamin Moore paint purchases are covered by the Extra Mile Promise™ — a guarantee that customers get the advice and supplies they need to successfully tackle any paint project in one trip to their local Outer Banks store, or delivery is free.
*The Extra Mile Promise is only applicable with the original paint purchase receipt showing the purchase of a minimum of one gallon of paint. Visit www.acehardware.com/extramilepromise/guarantee for complete guarantee terms and conditions.
About Benjamin Moore
Founded in 1883, Benjamin Moore is North America's favorite paint, color and coatings brand. A leading manufacturer of premium quality residential and commercial coatings, Benjamin Moore maintains a relentless commitment to innovation and sustainable manufacturing practices. The portfolio spans the brand's flagship paint lines including Aura®, Regal® Select, CENTURY®, Ultra Spec®, Natura® and ben®. Benjamin Moore is renowned for its expansive color portfolio, offering consumers and designer more than 3,500 colors. Benjamin Moore paints are available exclusively from its more than 5,000 locally owned and operated paint and decorating retailers.