Vendors and Sponsors Needed for November's REALTOR®Fest
The Outer Banks Association of REALTORS® (OBAR) is holding its annual expo on Tuesday, November 9, 2021.  The event is hosted at the R/C Movie Theatre and includes vendor tables, lunch, and multiple educational presentations held simultaneously in 3 different theatre rooms.  Says event Co-Chair Christi Bryant, "This is a great event that is open to the public and features a multitude of learning opportunities regarding financial planning, real estate, and tech tips.  All are welcome to join us for the expo."
OBAR is now accepting vendor and sponsorship applications.  "This is a great way to get your business in front of the powerhouses of real estate—both in sales and property management," says Co-Chair Danielle Fenyak, "In the past, we've had vendors from mortgage lenders to authors, to HVAC companies, to closing gift ideas, the sky is truly the limit."  Says Bryant, "There are so many facets to sales and property management, they both need people to help with repairs, design, lumber, and everything in between, which why this is such a great opportunity."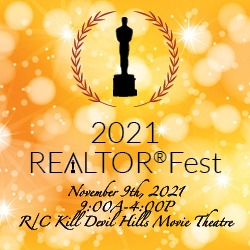 Vendor applications are on a first-come-first-served basis.  There are only two sponsorship opportunities left: The Oscar Award (event), and the Golden Globe (lunch).  Says Fenyak, "The event sponsor itself is one of the best marketing opportunities because it features your business recognition on the event badges, top billing on the event flyer, and it even allows you to be a part of a coming soon video that will play before every movie at the theatre.  The exposure is huge!"
To apply for a vendor spot or sponsorship opportunity, please contact Communications & Marketing Director Leah Holmes at leah@outerbanksrealtors.com or (252) 441-4036.  Registration for the event will open in early August and will be $35 for OBAR members, and $50 for the public.
For more information, you may view the event's Facebook Page at "REALTORFest 2021".
Click to Apply for a Vendor Spot Now.