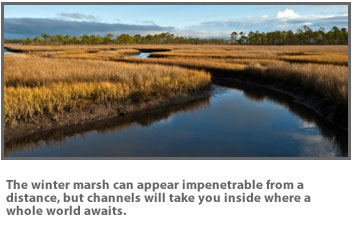 Summer at Ocracoke finds lots of kayakers plying their paddles along the shores of Pamlico Sound.  Residents and tourists alike take to the water. As the temperature falls, the experience of kayaking changes, but there is still plenty to see and enjoy while paddling around the island in the winter.
Warmer, waterproof clothes are a good idea on most days in the winter, and a wet or dry suit is ideal.  One advantage of kayaking in the winter is the absence of mosquitoes and flies.  If you go at high tide, you will be less likely to run aground, but even at low tide there are channels that provide easy paddling. And don't forget to bring your binoculars!
Pamlico Sound, which divides Ocracoke from the mainland, is one of the largest estuaries in the United States. It is home to all kinds of fish, skates, small sharks and turtles and attracts numerous species of ducks and other waterbirds. Its shallow, brackish waters make it an ideal nursery for fish, shrimp and crabs, and the salt marshes that line its shores are alive with mussels, marsh crabs, snails and secretive birds.
As you paddle across the water, look for patches of eelgrass waving softly underneath your kayak or piled up along the shores. You may see this same grass, dried to a grayish-black, piled up along the shore where wave and wind action has driven it. Eelgrass forms an underwater garden which is essential to the health of the sound.
Looking higher, you may see great strings of cormorants flying to and from the reefs where they feed. Cormorants are capable of diving to great depths in their search for fish. Social birds, they gather in the evenings. An occasional loon, dressed in the soft browns of its winter plumage, might be diving and surfacing in the dark waters, or you might hear its haunting but melodious cry. Most people think of loons as northern birds, but many winter on the North Carolina coast.
Canada geese, brants, pintails, black ducks and mergansers are among the many kinds of waterfowl that winter in the waters of the Pamlico. They're easy to see with binoculars. Brown pelicans may be seen gliding in elegant formations along the surface of the water, and herring and ring-bill gulls are common.
There is much to see on the open waters of the Pamlico, and they are a great place for getting up speed and building muscles. The hidden creeks that lead into the salt marshes are, however, my favorite places to kayak.
From a distance the salt marsh looks like an impenetrable curtain, but creeks, often indiscernible until you are almost upon them, lead you into a hidden world. The marsh grasses take on a dark grey hue in winter. Spartina and black needle rush are the main components of the marsh. Near the waterline ribbed mussels cling to their roots, and on warm days small snails called marsh periwinkles climb up the stems.
Some of the creeks wind through maritime forests, where live oaks, yaupons — a kind of wild holly — wax myrtles and junipers, or cedar trees, grow together in a lush ecosystem. The bright red berries of the yaupon and the softer blue fruit of the cedars and wax myrtles attract yellow-rumped warblers and other songbirds.
Belted kingfishers are among my favorite winter residents, piercing the air with their distinctive call or diving kamikaze-like from a branch into the dark waters to emerge with a fish in its beak.
Diamondback terrapins, some of my favorite warm weather favorites, bury down into the mud when temperatures drop, but on warm winter days they ca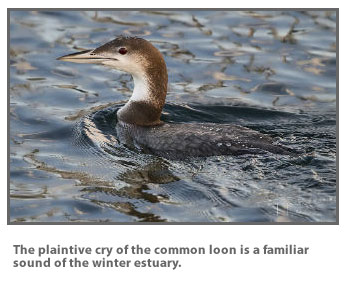 n be seen sunning on logs or popping their heads up through the water. In the early 20th century, these medium-size turtles were threatened with extinction when terrapin stew became a huge fad in New York. They are still rare in many places, but can often be seen at Ocracoke.
Late fall and winter are oyster-harvesting time, so if you are lucky to paddle up upon an oyster rock, you are allowed to take enough of the tasty mollusks for an oyster roast or stew. Be sure to follow the law and make sure the oysters are safe to eat. If you look carefully, you can see all manner of life that makes their home among the oyster ecosystem: slipper shells, snail-fur, tube worm castings and the tiny pea, or oyster, crab
A good place to put your kayak in is at the public docks behind the Ocracoke Museum. Ride the Wind Surf & Kayak rents kayaks and has its own spot for launching at the edge of Silver Lake Harbor. Driving north along Highway 12, there are several places you can slide a kayak down along one of the creeks. With four-wheel drive you can also drive down one of the sandy lanes in the Cape Hatteras National Seashore to the Pamlico Sound and put in. You need to buy a permit to do this.  Be careful if you launch your kayak during duck-hunting season. There are a number of duck blinds in the shallows of the sound.
Wherever you go, don't forget your life-preserver. It's required by law.
Happy paddling.
(This story is provided courtesy of Coastal Review Online, the coastal news and features service of the N.C. Coastal Federation. You can read other stories about the North Carolina coast at www.nccoast.org.