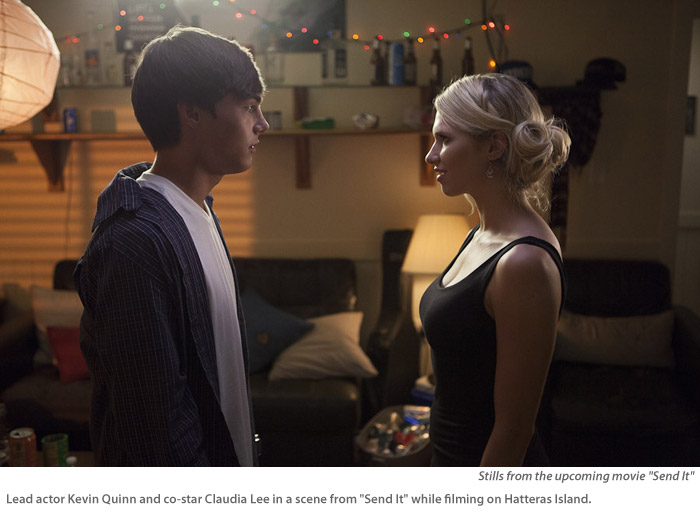 Over the summer, onlookers may have noticed the towering cameras and packed parking lots outside of the REAL Watersports complex in Waves. The action was due to the filming of a new movie, which is featuring a host of film and television stars, and which is set to be released to the masses sometime in 2019.
The movie is called "Send It," and it's a boy-meets-girl love story with Hatteras Island's kiteboarding scene serving as the backdrop. The movie takes place during the Wind Voyager Triple-S Invitational, one of the most famous kiteboarding tournaments in the world, and Hatteras Island has a starring role throughout the film.
Executive Producer and screenplay writer Charlie McKinney is the backbone of the film, and created the script from scratch after he fell in love with kiteboarding a few years prior to getting the project off the ground. "I learned to kiteboard five years ago, and at the time, I had never heard of REAL or Cape Hatteras or the Outer Banks," said the Dallas, Texas resident. "I happened to go [to Hatteras Island] during the Triple-S and fell in love with it… and I started to wonder how to we make this bigger, and badder?"
"Everything in the media world that focused on kiteboarding was documentaries," he said. "So we thought we should create a movie that's appealing to the masses, and introduce kiteboarding to a whole new audience."
McKinney began writing the script for "Send It" in 2017, and personally funded the project. On the road from concept to actual filming, he signed on Andrew Stevens as Director, who has made roughly 200 movies, (including "The Boondock Saints," "3000 Miles to Graceland" and "The Whole Nine Yards"), as well as a host of familiar actors who happily joined the project and the ensuing filming on Hatteras Island.
The under-20 crowd will recognize the lead actor and Disney star Kevin Quinn from the television series "Bunk'd," as well as co-star Claudia Lee, who has appeared in the TV series "Famous in Love," "Girl Meets World" and "Hart of Dixie."
The movie also features 20+ year veteran actor Patrick Fabian, (most recently known for his role as Howard Hamlin in the series "Better Call Saul"), Michael Jai White, (famed as the first African American to portray a comic book superhero in a major motion picture, the 1997 film "Spawn"), and Denise Richards.
"Her role was pretty much written for her, and we were thrilled when she said she would do it,"said McKinney. "She was fantastic."
"With the help of a casting director, we went through roughly 50 submissions for each character, and we were able to get all the people we wanted," he added.
The movie also features a couple big-name cameos, including rapper 2 Chainz, and billionaire Richard Branson, who is currently filming his small role in the movie this week. "It definitely has some punch to it with the big names," said McKinney.
Filming began on Hatteras Island in the summer of 2018 over a 27-day schedule. Primarily taking place on the edge of the Pamlico Sound at the REAL Watersports complex, the movie enlisted the aforementioned stars, kiteboarding professionals and stuntmen, and extras who were both residents and vacationers who popped by to see what was going on.
And both McKinney and REAL Watersports Co-Founder Trip Forman reported that everyone involved in the movie fell in love with Hatteras Island, and had an absolute blast along the way.
"Everyone [on the crew] told me it was the most fun movie they had ever worked on," said McKinney. "The people of Hatteras Island were so nice. Often when you come in with 60 people, you can disrupt the community, but here everyone loved it and helped."
"The three main characters went there a week early and trained, and learned to kiteboard – and they just loved the area," he added. "On their days off, they went to the beach, and every sunset we would go out on a pontoon boat, and have a few beers and just chill."
"All the main characters had to learn how to kiteboard in order to properly act out the parts," said Forman, "and everybody was really stoked with it. Patrick Fabian said he had never owned a pair of sandals in his entire life, and not only did he buy a pair, but he 'commuted' (walked) to work in sandals, and wore them every day."
But even with the long roster of familiar stars, the movie at its heart is about love, and about kiteboarding.
"A lot of people initially misunderstand it as a documentary film – like a sports movie," said Forman. "There's a lot of kiteboarding and Wind Voyager Triple-S in the movie, but it's really a boy-meets-girl story that is based in Cape Hatteras."
"A parallel would be the movie 'North Shore' or 'Blue Crush,'" said Forman. "They are action drama movies based in Hawaii with surfing as the background theme, but you don't necessarily need to be a surfer to enjoy them. It's the same kind of movie – you don't have to be a [kiteboarder] to like it, but the film is based in Cape Hatteras, and is about kiteboarding and the lifestyle in our area."
The filming on the island wrapped up over the summer, but there's still more post-production work to do.
Currently, the music supervision, scoring, and special effects for the movie are being worked on in Los Angeles, while crew members in Dallas work on sound engineering. All post-production work is expected to wrap up by the first or second week of January, and then the film will go into the market to find a distributor.
"Netflix and Amazon would be great, and we do know some folks at Netflix who are kiteboarders, so we have some connections there," said McKinney. "We also have friends who [work with] Paramount and Universal, so there are lots of options."
While it's not completely certain when and how the movie will be released, (though a Spring 2019 release date is likely), the movie already has some solid buzz going for it, and has an opportunity to put Hatteras Island on the Hollywood map once again – similar to 2008's "Nights in Rodanthe," which was also filmed in the Tri-Villages.
"I think it's going to be a cult movie – certainly anyone who has kiteboarded is going to watch this, so that's a million people worldwide," said McKinney. "I really think it could catch on and be the industry's movie. I would love it if that happened, and if it does, we will make another one. We'll call it 'Sent It Again.'"
"It's cool for a couple of different reasons," said Forman. "From the local standpoint, it's going to expose a lot of people to the Outer Banks. I saw a lot of clips from the movie, and it really shows off all the best scenes, and landscapes, and weather that Cape Hatteras has to offer – and that's going to be on display to the world."
"And from our side of it, it brings kiteboarding to the mainstream," he added. "The movie is going to attract all the same demographic that were attracted to 'Blue Crush' or 'North Shore.' Teens, and people in their 20s and 30s will see kiteboarding up close, and will see actors they've followed their whole life enjoying [the sport.]"
Everyone involved in the project has high hopes that it will spread, and will attract a new wave of sports fans who discover Hatteras Island. And considering that the majority of the movie was shot locally – from scenes at the Bodie Island Lighthouse to footage from past WindTriple-S competitions – Hatteras Island is well positioned to make a long-lasting impression.
"When you put creativity on the screen, you put your heart out there, and I really think this movie is good," said McKinney. "I think Kevin Quinn will blow up from this – he is outstanding in this movie."
"Anybody who sees this is going to come away with a giant impression of Cape Hatteras," he added. "It's just so cool, and the footage is amazing."
"Over the past several years, we're really seen an uptick in new visitors who are coming to Cape Hatteras on their own," said Forman. "It's more of a younger demographic that's coming, with an outdoor, athletic-minded background… I think this movie helps tell that story, and will also bring lot more of that visitor traffic to our area."