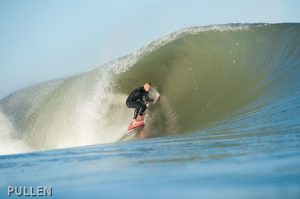 Island Free Press photographer Daniel Pullen didn't get to surf or photograph surfing as much as he would have liked from late summer into the fall.
Hurricane Irene got in the way.
The hurricane came ashore south of Hatteras on Aug. 27, and storm surge from the Pamlico Sound cut several new inlets between Rodanthe and the Bonner Bridge, closing down Highway 12 for about six weeks.
Pullen lives in Buxton, and his home was not damaged.  But his business was. His day job is as a wedding photographer, which he is very good at, and the closed highway made life difficult, if not impossible.
Weddings on Hatteras, of course, had to be moved or rescheduled, and some of Pullen's business is north of the bridge. Commuting on the slow and tedious emergency ferries just wasn't going to work.
So the Pullens became refugees from Hatteras.
A week or so after the storm, Daniel and his wife, Kate, and their two children relocated to Kitty Hawk so they could keep working.  They were there for about seven weeks, first living in a friend's basement and then moving to a rented house.
Besides missing home and having to enroll his children in a new school for a brief period, Daniel laments the "fun days" of surfing he missed here on Hatteras.
Despite that, he did manage to get some terrific surfing photos and other images of Hatteras after Irene.
The photos in his slide show were taken between mid-August and late November at the Lighthouse Beach and the beaches between Buxton and Avon, in Rodanthe, and just north of the S-curves.
Pullen says the surfing was pretty good right after Hurricane Irene, but was better when hurricanes Katia and Maria passed several hundred miles offshore of the island.
"It's always better in the smaller storms that pass offshore than the ones that hit us," says Pullen.
"I wish I would have had more time to shoot during those storms, but I had other things to take care of – family and bills."
Other than the hurricanes passing offshore, he says it has been a relatively slow fall for surf on the island.
But he's not complaining because the weather has been beautiful right into December and he's been able to take his kids to the beach.
He's hoping for a mild winter, so, now that he is back at home, he can keep bringing Island Free Press readers images from the island.
In the slide show, be sure to notice the lightning on the horizon in the beautiful photo of the Cape Hatteras Lighthouse at night.