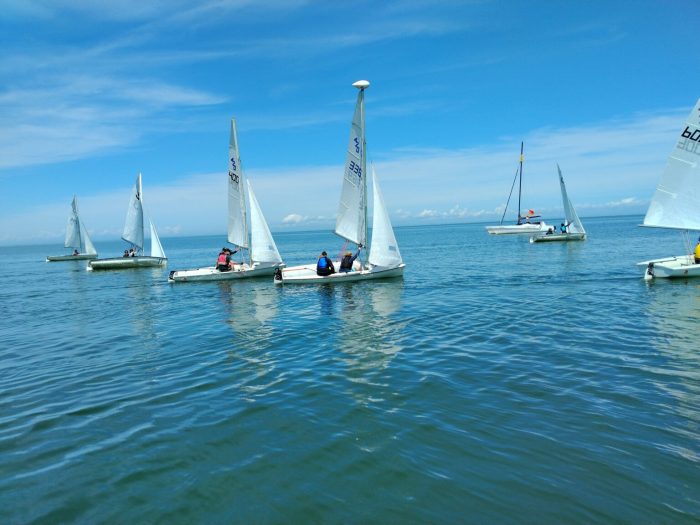 Thanks to volunteers, sponsors, and enthusiastic visiting sailors, it looks like Hatteras Island will continue to be a sought-after venue for festival-style sailing events, as evident by the success of the first-ever Annual Wind and Waves Regatta which was held on the weekend of May 14.
Notwithstanding some real logistic challenges, with communications cut off due to a fiberoptic cable breach on Friday and a massive Nor'easter washing out the roads in several places earlier in the week, Hatteras Sailing and most of the 48 registered sailors persevered, and made it to the Wind and Waves Regatta at Frisco Woods on Friday and Saturday morning.
Click Here to see Regatta Results and Image Gallery
Organized by Hatteras Community Sailing Organization and hosted at Frisco Woods Campground, the Wind and Waves One Design Regatta was a great time according to visiting sailors who came to the event from up to 300 miles away.
The festivities featured an exciting full schedule of racing and fun family activities from Friday check-in at 3 p.m. through the Sunday afternoon Awards Ceremony. Dozens of local businesses contributed by sponsoring food, drinks, entertainment, and regatta apparel.
Friday night activities at the Campground Gazebo were hampered due to the wet weather. Nevertheless, competitors arrived and set up camp between rain squalls while the Campground Pavilion Building served the group well, featuring a Pit Beef BBQ sponsored by Phillips Boatworks and tasty microbrews from the 1718 Brewery in Ocracoke. Participants received their fun welcome packages with complimentary Regatta shirts and a mix of cool stickers from local businesses and surf shops.
Saturday morning was still a bit gray and cloudy, but nevertheless, Endless Summer Surf Camp OBX donated instructional time to visiting youth and adults at Lighthouse Beach. The surf was big on the outside, but manageable enough for everyone who participated to enjoy a couple of hours of wave riding before the sailing skippers meeting at 10 a.m.
Pamlico Sailing, Dairy Queen, MSP Media, and other sponsors and volunteers hosted breakfast as the Racing Skippers Meeting got underway. Lingering thunderstorms offshore in the morning caused a short postponement while lightning passed offshore of the Campground. Optimist and 420 Sailors got off and sailed for seven races for each class during the day in moderate breezes of about 10 knots from the south-southwest
Saturday featured a silent auction for the Scenic Pathway project between Frisco and Buxton, as the shoulders of N.C. Highway 12 are very narrow and can be dangerous for bikers and pedestrians during the busy summer months. Many of the Regatta Participants bid on auction items and contributed to the fundraising results. A delicious lunch of pizza and pork BBQ was sponsored by Tavern on 12, while some excellent live music got underway.
As sailboat racing ended near 3:30 pm, Endless Summer Surf Camp OBX brought their boards to the Sound waterfront for a paddle race. This was a fun icebreaker for kids to play and get to know each other. All day long, bystanders and participants took note of sailors getting to meet other sailors from Virginia and Eastern Carolina. Dinner was a big hit with OBX Shrimp and Turners Raw Bar proprietor Brian Harris serving a massive fish fry dinner for nearly 200 people, while drinks and beer from 1718 watered down the crowd. Outer Banks Distillery provided the event with a case of their delicious Pecan Dark Kill Devil Rum from Manteo, which was used to mix up the notorious Painkiller cocktail originally from The British Virgin Islands sailing territory… which was a tasty hit for the parents and older sailors.
The weather started clearing up mid-day and became refreshingly wonderful for the rest of the weekend. Sunday Morning featured a fruit and pastry continental breakfast, with some of the leftover Pit Beef from Friday night.
The wind was nonexistent in the early hours, but finally started freshening up so that sailors could get in four solid races for the day, to make for a total of 11 races.
Unique awards for the event were created by sponsors Stash Wompeirski and MSP Media's Meg Phillips. Custom photography of the competitors while sailing was printed and framed up in the post-race/pre-award time slot, so that sailors could hang an action shot of themselves sailing on their home walls to commemorate and remember the event. Alan and Pat Backus – trained, experienced, and certified US SAILING Race Officials from Lake Gaston and Research Triangle Park Sailing Organizations – came and blessed the program with high-quality race management. Dairy Queen's Brad Doerr sponsored some delicious post-racing Ice Cream Cake, which was a real hit with the kids and adults.
Due to the success of the event, sailing events like the Wind and Waves Regatta and Lighthouse Fall One Design Regatta will be the two Annual Regattas sponsored by Hatteras Community Sailing as fundraising and 'friendraising' events for regional sailors to get a chance to interact with some of the region's best and most talented competitive sailors.
This year, visitors came from Research Triangle Park High School Sailing program, New Bern's ETSYA, Hampton Yacht Club, Norfolk Yacht and Country Club, and Deltaville's Fishing Bay Yacht Club.
The Collegiate 420 Sailing was very competitive and some of the Opti Sailing featured regional competitors with winning East Coast track records, Community Sponsorship, volunteers, and all-around support for the event was invaluable. There was good sailing, fun watersports, and social interaction. For Hatteras Sailors, new friendships were started with other peers that they will sail with and compete against throughout their lifetime.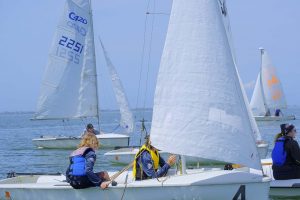 Hatteras Community Sailing is invested in the Community. Its members, organizers, sponsors, and volunteers all support the mission to help provide quality coaching opportunities for local youth, comparable to places like Annapolis, Hampton, Charleston, Beaufort, etc., where the youth are prime targets for competitive collegiate programs offering scholarships and varsity sailing programs to top-level sailors.
"On Hatteras Island, we are surrounded by water and an uncommonly consistent wind," stated Jay Phillips of Hatteras Community Sailing Organization. "Being blessed with natural assets that even the best sailing organizations could only wish for, we feel amiss not offering anything but the best possible training opportunities for our children."
"This year, Hatteras Sailing has taken a big leap of faith and invited full-time coaching staff from ODU and Duke Sailing Programs, so our local youth ages 6-20 years old can see and hear firsthand how a passion for sailing and the ocean can lead to unique and rewarding lifetime opportunities to live and work professionally on the water."
For more information on the first-ever Wind and Wave One Design Regatta, and to discover upcoming summer sailing clinics and camps to join in the fun, visit Hatteras Community Sailing at https://hatterassailing.org/.