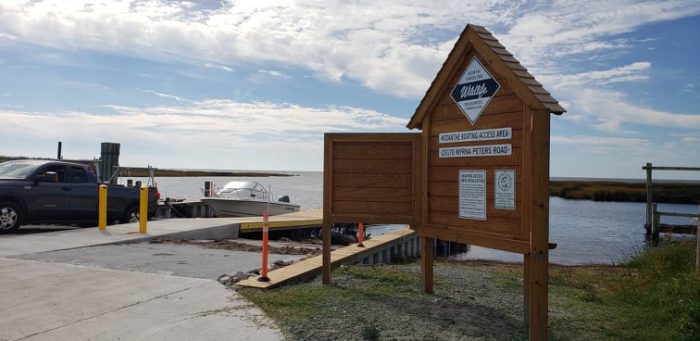 The new Rodanthe boat ramp and dock at the end of Myrna Peters Road has been completed and is now open to the public, per a recent announcement from the Rodanthe-Waves-Salvo (RWS) Civic Association.
The officially-named Rodanthe Boating Access Area is located behind the Rodanthe-Waves-Salvo Community Building, (adjacent to the emergency ferry docks), and the site features a two-lane boat dock with a 60-foot-long center floating dock and courtesy platform, as well as newly established parking spaces that can accommodate up to 16 vehicles with trailers.
The ramp extends 17 feet into the water of the T-shaped harbor, and then connects with a federal navigation channel called Blackmar Gut before leading into the Pamlico Sound.
Crews from the North Carolina Wildlife Resources Commission (NCWRC) have been working in conjunction with Dare County to complete the construction of the new boat ramp since March 2021, when the original soundside boat launch area was closed to the public for the ensuing project.
Plans for the proposed boat ramp and dock have been in the works since March 2017, when Dare County hosted a public open house at the Rodanthe-Waves-Salvo Community Building to present and gain feedback on the two proposed boat ramp layouts.
The land where the new Rodanthe Boating Access Area is located is owned by Dare County, which partnered with the NCWRC for the project. The Dare County Public Works Department is also developing a plan for the reopening of the Rodanthe-Waves-Salvo Recycling Center, and more details from the county will be announced soon.