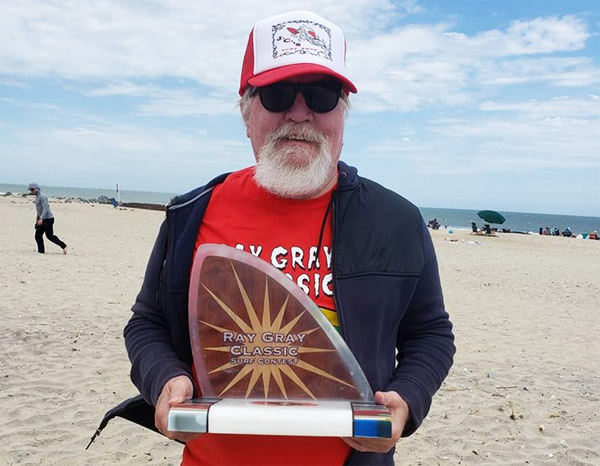 The Cape Hatteras Secondary School Surf Club was out in full force at the first annual Ray Gray Classic at the old Cape Hatteras Lighthouse Site on Sunday, and the inaugural event attracted a big crowd of spectators and surfers.
The club's teacher-sponsor, secondary school teacher Clayton Tiderman, formulated the event after multiple requests from community members for an opportunity to bring surfing and the community together. Despite a lack of worthy waves, there was an overwhelming turnout of community support and camaraderie.
"A lot of people had been wanting to make an event for the community, and we really wanted to make it about Ray Gray," Tiderman said.
The Surf Club launched the competition in honor of the former Cape Hatteras Elementary School principal, Ray Gray, who suffered a traumatic brain injury in 2014. Despite his major setback, Gray has remained a symbol of the Hatteras surfing community and even made an appearance at the competition. The event's T-shirt, designed by high school student Claudia Conner, pictures Gray surfing in a colorful barrel. It is currently available at Natural Art, with all proceeds going to the CHSS Surf Club.
Many other community members had a hand in the event as well. A host of volunteer judges alongside scorekeepers Dawn Wescoat and Sheryl Blankenship stayed until the last heat, which ended at 4:30 p.m. Shortbus Boarding Company donated the rash guards to CHSS's Surf Club and Bennett Langowski, announcer for the day, kept the competition moving. Conner's Supermarket and Red Drum Tackle provided drinks, napkins, and cutlery. At noon, CHSS staff served food donated by Crazy Johnny's Bar-B-Que, Risky Business Seafood, Lighthouse Sports Bar, and Angelo's Pizza to a crowd of over a hundred people. It was truly a community affair.
Altogether, 21 teams consisting of one student and one adult competed in the Ray Gray Classic. With heats starting at 8 a.m., teams lined up along the shore anticipating their turn. Many parents and alumni participated, as well as both middle and high school students. Even younger siblings found a way to get involved. Surf Club member Noah Hagy's little brother, 7-year-old Isaiah Hagy, sang the National Anthem to kick off the event.
As the judges watched dutifully for maneuvers, technique, and cleanliness, competitors struggled to ride the shallow waves. Although the waves were less than ideal for competition, the weather stayed consistently beautiful throughout the day, despite a short burst of threatening rain drops.
"Even though the waves were very small, it was a good time. We got to showcase our skills which we don't often get to do," participant Kai Detter said of the competition.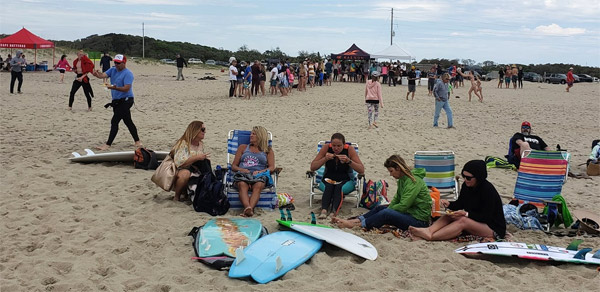 Though only three teams placed in the competition, each participant went home with a hat, T-shirt, and stickers.
In third place were middle school student Kai Wescoat and Morgan O'Connell. The second-place winners were middle school student Gavin Thompson and professional surfer and alumni Brett Barley. As first place winner, high school student Dylan Gray won a wet suit and his partner Jeffery Midgett won two nights at the Inn on Pamlico Sound and a gift card to Café Pamlico.
Additionally, Barley gave away a solo shot camera to the student with the highest wave score all day, Max Bigney.
Donations were collected for the Surf Club throughout the day. Tiderman says he plans to use the money to do more events like the Ray Gray Classic in the future. He is also interested in using donations to pay for water safety classes, such as CPR and first response, and to travel with the team to surfing destinations.
"I'm really happy with how it turned out," Tiderman said. "The community really came together to support Ray Gray and the Surf Club."
Despite the lack of surf-worthy waves on Sunday, the overwhelming community support made the event worthwhile. Hundreds of people made it out to the lighthouse to see both students and adults come together to do what they love in honor of Ray Gray. It was an especially important opportunity for students to showcase their talents beyond academics and traditional school sports.
Photos by Don Bowers