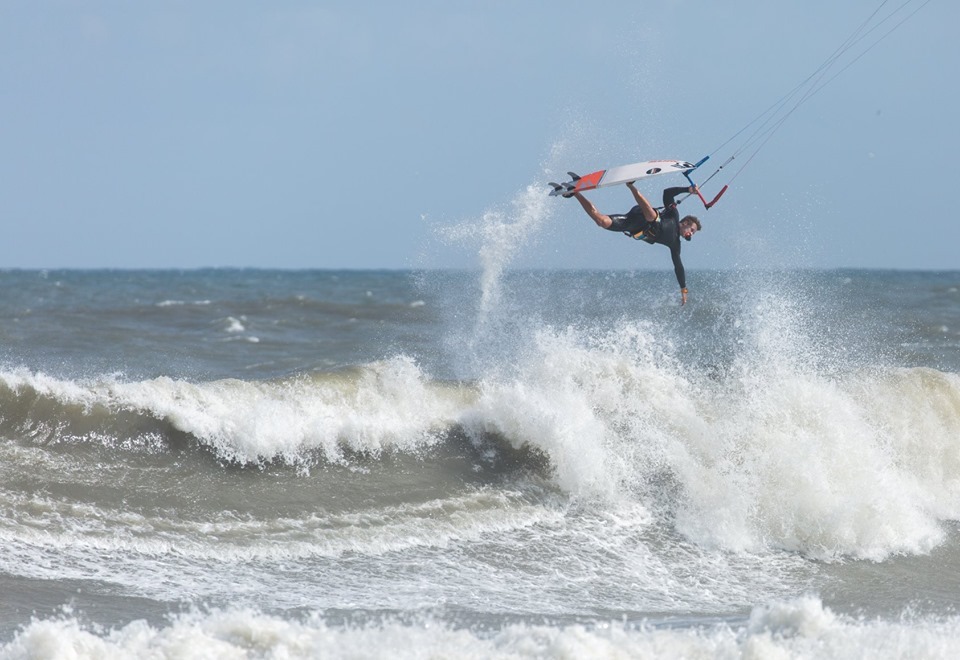 Another chapter of the Cape Hatteras Waves Classic (CHWC) commenced last week. Hosted by REAL Watersports in Waves, the CHWC is a kiteboarding competition scored according to riders' execution of wave riding, tricks, and the overall impression made on the judges. Competitors from all over the world lug their gear to what is the premier spot for kite surfing on the East Coast in order to put their skills to the test.
This was perhaps the most epic year of competition yet. For starters, it was presented by Patagonia, a major manufacturer in sustainable outdoor gear. Their line of wetsuits employs a naturally sourced and sustainable plant-based rubber material that replaces the traditional neoprene linings in wetsuits. Secondly, the weather could not have been more ideal for the purposes of the competition. With a combination of honking wind and crashing waves, conditions were ripe to spawn interesting combinations of style and ability.
This annual event began with a kick-off party at Watermen's Bar & Grill in Waves. With live music from Virginia Beach-based Harrison Bounds, riders enjoyed dinner before competing in heats in the following days. Kiteboarders fought all week to capitalize on the awesome wave conditions, but only two kiteboarders from each of two divisions, men's and women's, could qualify for the final round of competition.
The CHWC culminated in a final round at the lighthouse in Buxton with heats starting at 8:30 a.m. and lasting anywhere from 10 to 30 minutes at a time. With waves ripping over the jetty, the conditions provided the means for an intense, concluding round of competition.
After the long week of events, the results of the competition were announced at an awards party at Watermen's Bar & Grill on September 20, to the soundtrack of DJ No Philter.
First place in the men's division and a cash prize of $4,000 went to Reider Decker. A local to Hatteras Island, Decker gives kiteboarding lessons with Hatteras Island Surf and Sail in Waves. No doubt, his first-place win is sure to boost his credentials as a teacher. Keahi de Aboitiz came in second place in the men's division, with Kevin Langeree securing third place. They each received $2,500 and $1,500, respectively.
"I was stoked we got some nuking wind with some heavy chaotic waves for the [CHWC] this year," Decker said on his Facebook page.
First place in the women's division went to Moona Whyte, a three-time kiteboarding world champion. From her home on Hawaii, Whyte owns and operates her own graphic design company which reflects her affinity for simple living. Alongside her other numerous supporters, she has been sponsored by Patagonia since May of this year. Gage Fitcher was runner up in the women's division, with Jessie Kilgour coming in third place. Whyte, Fitcher, and Kilgour also received cash prizes of $4,000, $2,500, and $1,500, respectively.
"These were probably the most challenging conditions I've competed in," Whyte said on her Instagram.
According to REAL, the challenging conditions that Whyte overcame to secure her first-place title produced the highest scoring women's final in the history of the competition.
For nearly twenty years, REAL Watersports has shipped watersports gear to destinations all across the globe and is currently one of the best known kiteboarding/surf shops and lesson centers in the world. Along with renting out gear to kiteboarding enthusiasts, REAL also offers kiteboarding lessons to novices from professional riders such as third place winner in the women's division, Jessie Kilgour. And it just so happens that September is the best month of the year to garner this hobby, as it offers the most ideal weather conditions for kiteboarding.
To see footage from the competition or register for next year's competition, go to the REAL Watersports Facebook page.