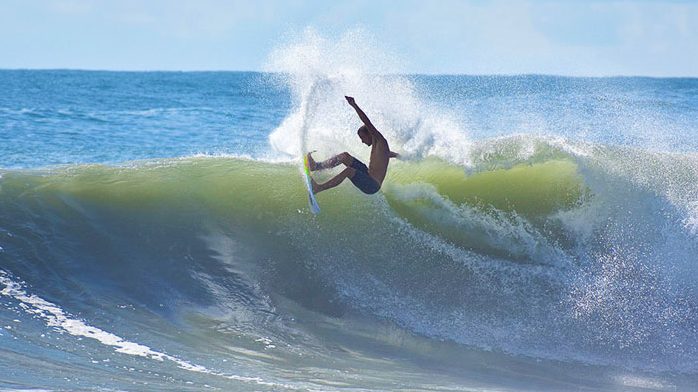 What makes Hatteras Island a special place and important exodus for East Coast surfers? Is it an easy question to answer? Probably, yes, and I realize as a transplant from California weaned on surfing the western coastlines of North America, this question also ties in with why I can't seem to leave the island now.
So without guessing as to exactly where and when a surfer should expect to drop into a perfect barrel, from an environmental perspective, the surfing experience here begins with understanding of what oceanographic features produce quality waves.
Here on Hatteras Island, for example, the continental shelf has its narrowest adjacent margin along the entire East Coast – (offshore from Diamond Shoals, Cape Hatteras). This shift in bathymetry from a deep 6,000 ft escarpment to a 200 ft shelf helps focus stronger wave energy towards Hatteras Island. Another feature and benefit of Hatteras Island is the Atlantic Ocean's little helper, the Gulf Stream. This clockwise warm current makes its last stand of meanders and eddies offshore of Cape Hatteras before trending northeast. It generally keeps surfers out of booties, gloves and hoods for 6 to 7 months out of the year.
The weather and wind of Hatteras Island is a cycling continuum of uncertainty, chaos, and order, which produces risk and reward. The best swell producers are obviously hurricanes producing southeast swells, as well as cold nor'easters producing northeast swells. This is the manic Atlantic Ocean, in contrast to the somewhat peaceful Pacific where several days of glassy windless surf are common, so it is important to discuss the intensity of wind speed and direction. Any combination of NW, W or a SW offshore wind will set the table for clean surfing conditions. During the summer and fall months, wind intensity is moderate, but in the winter and spring, these winds move around like hands on a clock with much more severity, so timing is everything. As the intensity of these particular wind and swell factors increase, so does the degree of difficulty navigating a tube ride on Hatteras Island.
Although oceanography, wind, weather and swell factors are important to predict surfing conditions, the presence of a good sandbar remains a most salient feature to locate for a fun surf session on Hatteras Island. As a barrier island that is actually migrating westward, Hatteras is consistently and incessantly transporting sand around to the north and south by way of longshore current.
The result is a series of sinuous channels and bars along the beach that focus wave energy. The duration and quality of these sandbars is always a mystery, especially in the fall, winter and spring, but anticipating a good one develop and taking advantage of it while it lasts is very rewarding for a Hatteras Island surfer.
I would gather that all surfers have a mosaic of particular memories that they will never forget from surf sessions. I would like to relate some of mine from Hatteras Island, as well as some of the first impressions I have had since I first exiled myself here .The central theme is how things can change on this island and go from one extreme to the other. Who knows they may change before I head to the beach again.
The first thing I noticed is how many of the surfers here are proficient at tube riding in strong offshore winds. I gather it's just an adaptative quality based on the conditions Mother Ocean has given them, for even a waist high wave here seems to want to toss her lip out at you. This brings me to an economic reality of surfing Hatteras, as I have snapped more boards here in two years then my entire life in California – (one of which was a buddy's, and it now serves proudly as a clothes stand rack in a surf shop in Ocracoke.)
Speaking of barrels, one of my first experiences came as a spectator on the beach during my first winter here. It happened on a cold spring day with a large consistent southeast swell and a strong northwest wind. A hard charger who will live in anonymity to me on a Buxton beach dropped into a right hand barrel and got spit out after 3 or 4 seconds –okay, pretty good, right? The thing is that the wave decided to throw over him again two more times for several more seconds. It was the longest barrel ride I have ever seen in person and a quick orientation to what surfing is all about around here.
A special surfing memory came from this fall and a hurricane that sat in the mid-Atlantic for days, not really deciding on a course. Most of its swell had been hitting Hatteras head-on and lined-up so it a bit frustrating shape wise, and most of the storm chasing surfers had left. In a matter of a day, the hurricane had U-turned and sent a surprise half-day's worth of shapely high tide tubes. I believe the hurricane actually ended up making landfall in Portugal, which makes me wonder how many other surfers on a planetary scale caught waves from that storm.
As a surfing culture, a very refreshing impression is a general lack of crowding problems in the line-up. When swell and wind conditions are favorable, the currents here simply dislodge any aggregate of surfers trying to hoard a peak, and just send them down the beach.
In essence, Hatteras Island is a strange paradox. For a surfer it's always the same yet always different. It is much like Mother Ocean herself and is congruent with what attracts everyone here, a dynamic stretch of wild coastline existing in a subtle time warp. Although it has become an increasingly rare type of surf location, it remains unique and special.