While Winter Storm Olena brought several feet of snow to the New England region, (and a small bout of ocean overwash close to home), the storm also brought some big waves for Outer Banks surfers who braved the roughly 45-50 degree water temperatures and not-quite-freezing air temperatures to take advantage of the swell.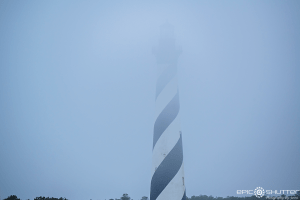 The moderate to gusty northwest winds produced chest-to-head high surf at popular beaches all along the island, and particularly at the Old Lighthouse Beach in Buxton, where several dozen surfers have been spotted routinely over the past couple of days.
Photographer and surfer Jenni Koontz of Epic Shutter Photography caught the action on Monday, February 1, and reported that the conditions attracted up to 20-30 surfers to Old Lighthouse Beach during both a morning and afternoon photoshoot.
"The waves were 5-7 feet overhead," she stated. "Definitely some larger [and] at least 8-feet set waves rolled through as well."
Per the Surfline short-term forecast, solid surf conditions continued into Tuesday, with an easing mix of ENE/E swells in the waters near the Cape Hatteras Lighthouse. Per the National Weather Service, the gusty northwest winds are expected to continue until Friday, when the winds on Hatteras and Ocracoke island will make a switch to the southwest, and will pick up speed.
For more information on the local weather forecast, visit www.weather.gov/mhx, or the National Weather Service office in Newport / Morehead City's Facebook page at https://www.facebook.com/NWSMoreheadCity/.