OBX-WIND (Windsurfing Regatta)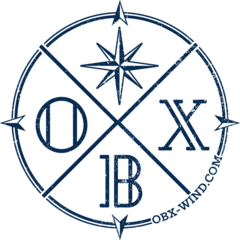 WHAT TO EXPECT FOR OBX-WIND:
– We fully anticipate all 300 racing spots to be filled for the long distance.    Register online as early as possible for long distance to ensure you get to race.
– You can not race without checking in and picking up your race number
– All racing will take place behind OceanAir Sports in Avon, NC.
– We plan to race in conditions that we see fit to hold the races.  There's no specific limit on the wind range, but we want to make sure that everyone will get planing while keeping it as safe as possible for the racers.  We'll be choosing the best forecasted day of the week for the long distance race.  Wind speeds for race day should be somewhere between 18 and 30 mph assuming we have a day that meets those conditions.
– There are some unavoidable shallow areas along the race course.  Be sure not to choose too long of a fin.
-The air temps could be anywhere between 50 and 80 degrees.  Check the forecast and make sure you have a suit that will keep you warm.
– Hatteras Realty has the largest selections of vacation homes in the area.  It's a great place to check to see what homes are still available near the event.
TENTATIVE SCHEDULE FOR THE WEEK:
Sunday: – Mandatory skipper's meeting at OceanAir Sports @10:00am
– On Site registration and check-in following skippers meeting
-receive your race number and free raffle ticket
Monday:  – First possible long distance or slalom race
Tuesday:  – possible long distance or slalom
Wednesday: – possible long distance or slalom
– Wed. night raffle and venue TBD.  Don't loose your tickets!  Must be present to win.
Thursday: – possible long distance or slalom
Friday: – possible long distance or slalom
– Closing party and awards at Madd Crabber – time:  TBD