Hatteras and Ocracoke Wedding Information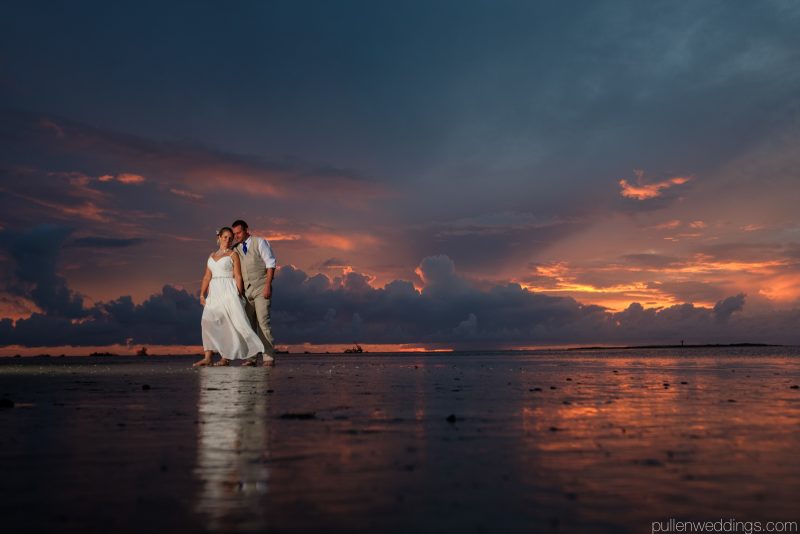 Outer Banks Wedding Destination
Hatteras and Ocracoke Islands are conveniently located within driving distance from most states, making them an affordable and perfect choice for an Outer Banks Wedding.  The beauty, tranquility, and privacy that our islands provide are second to none as a choice for an island wedding.  With the help of The Island Free Press, you can easily plan your island wedding from anywhere in the world.  Here is the essential information you will need to get started — local vendors, marriage laws, travel and weather information, essential phone numbers and more.
North Carolina Marriage Law
Age requirement: 18 (16 w/parental consent). Under 21 requires birth certificate.
Waiting Period: none
Blood Test: none
Cost: $60
License valid for 60 days and is valid in any area in the state of North Carolina
If either applicant is divorced, a divorce decree is required.
A social security card or other proof of social security number (tax return, pay stub, etc.) is required.
A picture ID is required.
There must be two witnesses at any marriage ceremony, whether it is civil or religious.
After the marriage ceremony, whoever performs the ceremony is required to give the couple a marriage certificate. This certificate includes the couple's names and addresses, the date of the marriage, the county that issues the marriage license, and the date of the license. The minister or magistrate must sign the license, then return it to the register of deeds who issues the license. This is the official record of the ceremony.
Register Your Outer Banks Wedding at the Register of Deeds Offices
Dare Register of Deeds (Hatteras Island)
Dare County Government Center
926 Marshall Collins Drive
Manteo, NC 27954
252 473-3438
Hours: 8:30 a.m. until 4:30 p.m., Monday through Friday
Hyde County (Ocracoke)
Register of Deeds
P.O. Box 294
Swan Quarter, NC 27885
(252) 926-4198
Hours: Monday – Friday, 8 a.m. until 5 p.m.
There are no justices of the peace in North Carolina. Magistrates may be contacted in Dare County at (252) 473-2010 or for Ocracoke Island, call (252) 926-4198.
If an applicant does not have a social security number, he or she needs to contact a notary public. The notary public will file a special affidavit that will officially state the reason(s) why a social security number does not exist and allow the applicant to get a marriage license.
Outer Banks Wedding Locations
The Beach & Beach Houses
A beach house wedding can be both intimate and relaxing.  You will need to check with your rental company to make sure that the house you would like to book allows events.  Not all homes are equipped for or allow weddings.  You will also need to contact your rental company if you would like to have the reception onsite and need to set up tents, chairs, tables, dance floors, etc.  Every home is different, and each rental company has its own requirements, allowances, and fees.  Visit our vendor page for rental company information.
Beach weddings are picturesque and memorable. All of the beaches on Hatteras and Ocracoke Islands are part of the Cape Hatteras National Seashore.  There are requirements and restrictions for holding your ceremony on the park's beaches.  Information provided by the National Park Service http://www.nps.gov/caha/fees.html  
A special use permit is required for activities that provide a benefit to an individual, group or organization, rather than the public at large, and that requires some degree of management from the National Park Service to protect park resources and the public interest.
Examples include:
Religious ceremonies including weddings
Fishing tournaments
Surfing tournaments
Commercial filming
Bike tours
Marathons
Car rallies
Public speeches and assemblies
Permit fees vary and are generally in a range between $100 and $500. However, any activity which requires NPS personnel participation or monitoring, or which creates extraordinary administrative work, will be charged an additional cost for such services. Any damage to park resources including litter cleanup will be billed the full cost for restoration.
Other Outer Banks Wedding Sites
Lighthouses
Certain areas of the national seashore are better suited for wedding ceremonies than others, particularly given the limited parking resources available within the park. The three lighthouses have different parking space availability. Please note that all of the sites are for wedding ceremonies only. There are no facilities for receptions. However, there are a number of such facilities available privately. Please check some of the links provided below.
Ocracoke Lighthouse:  Immediately south of Cape Hatteras, Ocracoke Island must be reached by ferry operated by the North Carolina Department of Transportation. Travel time by car and ferry averages about two hours from Nags Head, depending on the time of day. The ferry operates at different times during the day, and the schedule is published at http://www.ncferry.org/. Parking is extremely limited at the lighthouse, and the lighthouse itself is closed to the public. Because the area is immediately adjacent to wetlands and fragile grasses, this site is best suited for very small and intimate wedding ceremonies of three to 12 people. From Memorial Day until Labor Day, permits will be issued only for weddings before 10 a.m. or after 4 p.m. daily.
Cape Hatteras Lighthouse: Buxton is approximately 40 miles south of Manteo and Nags Head. This is perhaps the most famous of all lighthouses on the Atlantic Coast, and it is the tallest. Thousands of visitors come to this lighthouse on a daily basis during the summer months. While the lighthouse is open to the public from April until October,  weddings cannot be performed within the lighthouse itself or on its steps and paths. Continuous public access to the lighthouse is required at all times. Parking and restroom facilities are readily available, and this area is more suitable for larger weddings of up to 25 people. However, the area is less intimate given the great number of people visiting the lighthouse on a daily basis. From Memorial Day until Labor Day, permits will be issued only for weddings before 10 a.m. or after 4 p.m. daily. Larger weddings can more easily be accommodated at the beach area just beyond the lighthouse.
Bodie Island Lighthouse: Situated approximately eight miles south of Nags Head and Manteo, this is perhaps the most accessible of the park's lighthouses for most visitors. The site includes a nice expansive grassy area, parking facilities for up 50 cars, and restroom facilities. This is ideally suited for larger wedding parties. From Memorial Day until Labor Day, permits will be issued only for weddings before 10 a.m. or after 4 p.m. daily.
Beach Areas: 
Ocracoke Island. There are a number of sites that are well suited for wedding ceremonies along the magnificent coastline of the Atlantic Ocean. Just north (approximately four miles) of the village of Ocracoke is the day use area with parking spaces for 35 cars. During the summer season, it is also a lifeguarded beach. Approximately one mile north of the day use beach is the campground with parking spaces for 50 cars. And, approximately three miles north of that is the pony pen area with parking for 25 cars. All provide beach access and spectacular views of the ocean.
Hatteras Island. Adjacent to the lighthouse are a number of beach areas ideally suited for weddings. Entering the park and across from the visitors' parking lot is a beach access that leads to a picturesque and large expanse of beach suitable for larger weddings. Most days there is adequate parking for larger numbers of people, and immediately nearby is our new restroom facility. Above that site are the stones marking the original site of the lighthouse. This area and the adjacent beach are also picturesque sites for a wedding. Past the ranger's station, follow the park road leading to Cape Point and a smaller parking area for approximately 15 cars. This is a beautiful and usually less populous section of beach. Most beach locations provide an excellent view of the lighthouse for special photo opportunities.
Bodie Island. Immediately east of the Bodie Island Lighthouse is the Coquina Beach day use area with parking spaces for 115 cars. The beach is very popular with visitors to the seashore. Vehicles are not permitted on the beach north of the ramp access. Restroom facilities are available during the summer and fall months.
If you would like to apply for a wedding permit, you may simply address a letter to the National Park Service, in care of the superintendent:
Superintendent
National Park Service
1401 National Park Drive
Manteo, NC 27954
Include in the letter your name, mailing address and telephone number, including area code; the date, time and place of the proposed wedding; and approximately how many people will be attending. Send this about 30 days before the wedding date together with a check in the amount of $100 made payable to National Park Service to the address above. You can expect your permit in about 15 days.
If you have any questions about the process or your permit, please contact the Special Park Uses Coordinator at (252) 473-2111, Ext. 121.
Transportation and Traffic
The closest airport to Hatteras and Ocracoke Island is Norfolk International Airport.
For information please visit or call:
Norfolk International Airport (ORF)
www.norfolkairport.com
757-857-3351
Please visit our vendor page for limo and taxi information to and from the airport. There is no public transportation to either island with the exception of the NCDOT Ferry Service. For more information on the ferry and schedules visit http://www.ncdot.org/transit/ferry/ or call 1-800- BY FERRY
Parking can be a factor at some rental cottages and at beach accesses. Carpooling or using a limo or taxi service can alleviate some of this stress, as well as cut down on drinking and driving.
If planning a wedding on Ocracoke please visit the ferry information website to get the current schedule. Ocracoke is only accessible by ferry year-round from Hatteras Village, Cedar Island or Swan Quarter. For more information please visit http://www.ncdot.org/transit/ferry/ or call 1-800- BY FERRY
Weather
The most popular months to have an island wedding are May, June, September and October. Weather during these months is normally in the 60's to 70's and sunshine is abundant. Hurricane season runs from June 1st – November 30th so you may want to consider wedding insurance when planning a wedding during those months.