Annual Youth Fishing Tournament reels in a crowd, and hundreds of catches… WITH SLIDESHOW
Photos by Don Bowers
While Day at the Docks was canceled in 2023 due to the arrival of Hurricane Lee, one of the festival's most popular annual events with the younger crowd – the Youth Fishing Tournament – was independently held on Saturday, September 30, attracting an estimated 51 anglers.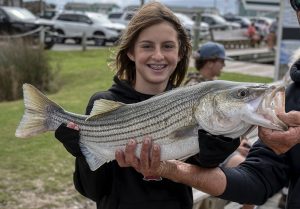 Despite the dreary weather, the dozens of young anglers had a busy afternoon of fishing along the Hatteras waterfront in front of Oden's Dock, with more than 100 weighed pinfish reeled in alone.
Other notable catches during the hour-long fishing session included a spot, pigfish, lizardfish, several flounders, hogfish, drum, a 26-inch rockfish, and a rare 9-inch gag grouper.
The 9-and-older group caught the largest and most varied fish, and was also the largest contingent in the three tiers of age groups with a total of 28 anglers.
After the fishing session, prizes were awarded in multiple age-related and overall categories, with donations of fishing gear, reels, and other prizes from local businesses all along the island.
The winners of the 2023 Annual Youth Fishing Tournament are as follows:
Ages 5 and under – Heaviest Pinfish
Place
Name
Age
City
Weight
3rd
George Scott
5
Hatteras
0.24
2nd
Kayson Balance
5
Hatteras
0.24
1st
River Hagerich
5
Hatteras
0.28
Ages 6-8 – Heaviest Pinfish
Place
Name
Age
City
Weight
3rd
Grayson Barnett
7
Hatteras
0.24
2nd
Lily Cannon
8
Hatteras
0.26
1st
David Ertle
Frisco
0.3
Ages 6-8 – Longest Fish
Place
Name
Age
City
Length
3rd
Amos Fulcher
8
Buxton
5.5-inch hogfish
2nd
Bodi Lloyd
6
Virginia
10.5-inch drum
1st
Isla Hagerich
7
Hatteras
14-inch flounder
Ages 9 and over – Heaviest Pinfish
Place
Name
Age
City
Weight
3rd
Liam Vandriten
14
Buxton
0.3
2nd
Quinn Vandriten
9
Buxton
0.3
1st
Caleb Weaver
9
Pennsylvania
0.32
Ages 9 and over – Longest Fish
Place
Name
Age
City
Length
3rd
Hazel Scott
14
Hatteras
13-inch lizardfish
2nd
Lily Hagerich
9
Hatteras
14.5-inch drum
1st
Kaylee Mawyer
9
Virginia
14.75-inch flounder
Youngest Angler
Addie Demsey – Age 3, from Hatteras, for her pinfish catch
Grand Prize Winner for heaviest pinfish
 
 
Eryn Ratiff – Age 15, from Buxton, for her .34 pinfish
Grand Prize Overall Winner
Charlotte Daniels – Age 12, from Hatteras, for her 26-inch rockfish