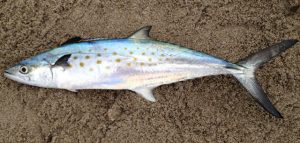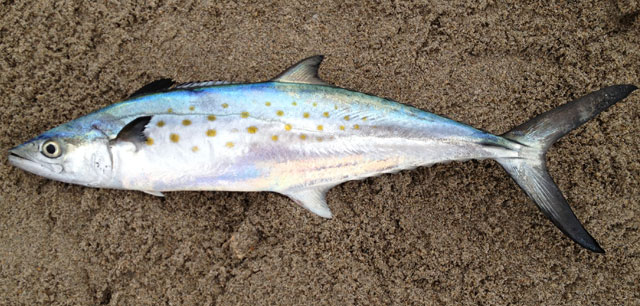 At a September 12 meeting in Hatteras Village, Steve Poland and Randy Gregory from the North Carolina Division of Marine Fisheries (NCDMF) explained how Spanish mackerel are managed, described the major past management actions, and presented information on landings, gear, number of trips, and number of participants, based on N.C. trip ticket information.
Wanchese commercial fisherman Dewey Hemilright, who is the Mid-Atlantic Fishery Management Council liaison to the South Atlantic Council, provided insight into the council process.  If you were unable to attend and would like a copy of the landings information from DMF, contact Steve Poland at steve.poland@ncdenr.gov or Randy Gregory at randy.gregory@ncdenr.gov .
General consensus emerged from the discussion that a two-pronged approach, seeking short-term and long-term management changes, was necessary to try to avoid early closures of the commercial fishery in N.C. in future years.
Fishermen generally agreed to:
Effective with the fishing year beginning March 1, 2020, the Council should reduce the trip limit for the commercial Spanish mackerel Northern Zone, (N.C. through N.Y.), from 3,500 pounds to 1,000 pounds with a provision allowing the trip limit to be increased if landing reports indicate the quota might not be reached.
The Council should immediately add at least two seats for N.C. commercial fishermen to the Mackerel Cobia Advisory Panel.  (Currently there are no N.C. commercial fishermen on the panel –   https://safmc.net/download/Mackerel-Cobia.pdf. Interested fishermen can apply at https://safmc.net/about-safmc/advisory-panels/  )
The Council should prioritize an updated Spanish mackerel stock assessment. (Under the current schedule, an update is expected in 2022, and any regulatory changes – such as an increase in total allowable catch – would not be implemented until 2024 or later.)
The Council should approve an increase in the Northern Zone commercial Spanish mackerel fishery by reallocating some of the Southern Zone or recreational quota. (Fishermen acknowledged that this request would face stiff opposition; many felt that an increase would be more likely through an updated stock assessment than by reallocation.)
N.C. should consider going out of compliance with the Spanish mackerel management plan. (The fishery in N.C. was closed quickly through proclamation authority, yet has remained open in other states, like Virginia, where the state commission must meet and vote to close the fishery.)
The South Atlantic Fishery Management Council needs to hear from N.C. commercial fishermen, their families, associates and related businesses now. Comments might include a brief description of the issue, why this is important to you and your community, and specific actions the Council can take to solve the issue.
Attend the SAFMC meeting in Charleston next week.  Commercial fisherman Thomas Edward Newman from Hyde County will attend, so you might want to contact him if you are interested in attending.  His email address is thomas.newman03@gmail.com and phone # is 252-542-0449.
Submit comments to the SAFMC online: https://safmc.wufoo.com/forms/z1dsx0do1dljzsr/  before noon September 19.
Send comments directly to NC's 3 representatives on the council: Steve Poland steve.poland@ncdenr.gov, Anna Beckwith annabarriosbeckwith@gmail.com, and Tim Griner timgrinersafmc@gmail.com ; to MAFMC liaison to SAFMC Dewey Hemilright fvtarbaby@embarqmail.com; and to N.C. DMF Director Steve Murphey steve.murphey@ncdenr.gov .