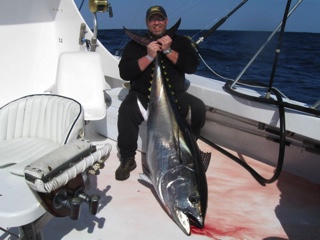 35 years of fishing in the Gulf Stream didn't leave me with much time or desire to go on beach walks or drives.  I have discovered, however, that it can be very therapeutic and rewarding.  I started driving out with Wendy on occasion… OK, she made me go.  I didn't expect to enjoy it but so much, but after finding a few pieces of beach glass, I became addicted to the hunt.
Last month was unseasonably mild, and I took advantage of the weather by taking my dog Samson on walks and searching for treasures while he kept a lookout for shorebirds.  I'm not as hardcore as some of the beachcombers who start at first light, but I have been rewarded with a pretty nice collection of glass as well as Scotch Bonnets and other unusual shells.
On a fishier note, the winter offshore sport fishing has been remarkably good.  It would be unfair NOT to showcase the giant bluefins.  By all the reports and pictures I have seen, it has been non-stop, hot and heavy action.  Trolling, jigging, and casting popping plugs have all been effective methods to hook up on one of these monsters that can weigh well over 500 pounds.
The yellowfin tuna fishing has been good as well, and I was reminded of that yesterday when my neighbor brought me a bag of fresh steaks for the grill.  I improvised on an old recipe last night, which I would highly recommend.  I made a paste out of mayo and lemon pepper, spread it on each side, and grilled briefly.  I took the steaks off while they were still pink on the inside.  Mmm, they melted in my mouth!  Anyway, there has been a good sign of 30-50 pounders, and hopefully they will stick around through next month.  Blackfins remain abundant as well, and if you ever wanted a shot at catching all three in one trip, now is the time.  Just to round off the offshore report, there have already been a few wahoo and dolphin caught by some of the charters, as well as great bottom fishing.  Grouper, golden tilefish, triggers, bass and snappers look good in a fish box, but even better on a plate!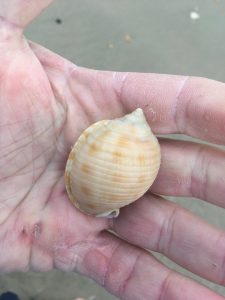 The commercial fleet took advantage of the abundance of bluefins as well.  This year, they were limited to one fish per day, over 73" fork length, but fishing was so good that if they could physically get to the fish, their chances of coming back with a giant was very good.  The commercial quota was caught up a week ago, so that fishery is closed now.  The gill netters closer to home have done well on sea mullet in their small mesh nets, but the dog shark fishing that started out great recently ended, as the body of fish moved on.
It won't be long before the inshore guides will be reporting great red drum fishing, but at this point, most everybody is just rigging up for the spring.  My first clamming trip of 2019 will be in a couple of weeks, and I expect to do well!
Reports of blow toads have been coming in from fishermen in the surf.  These are odd looking fish, but extremely tasty.  Haven't heard a lot about specks, but there should be a few around, as well as drum.
Spring is in the air, and in the waters surrounding Hatteras Island.  People are preparing for the upcoming season, full of optimism that we'll have great weather, great fishing, and great folks coming to visit.  I'm gonna try to hit the beaches as much as possible over the next few weeks, to gather all the sea treasures that I can find.  I am pretty sure I won't find it all, so come help me look!