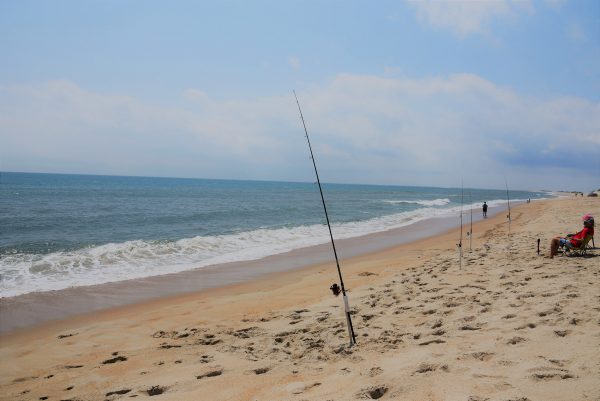 On Saturday, November 2, the National Parks Service (NPS) will host the first ever Cape Hatteras Surf Fishing Heritage Celebration. For the past year, the NPS and partner organizations have been planning the event, which will honor a long-standing pastime on Hatteras Island.
"We wanted to celebrate the past, present, and future of surf fishing at Cape Hatteras National Seashore," Michael Barber, NPS Public Affairs Specialist, said of the purpose of the event.
With the help of representatives from the Cape Hatteras Anglers Club, the North Carolina Beach Buggy Association (NCBBA), Outer Banks Forever, the Outer Banks History Center, and the Outer Banks Preservation Association, the NPS will host seven hours of surf-fishing-themed programs at the Fessenden Center in Buxton.
David Hallac, superintendent of the Cape Hatteras National Seashore, will both introduce and conclude the day.
Throughout the event, participants will hear from experienced professionals on the history, techniques, science, and art of surf fishing on the island. Andrew Cathey, from the N.C. Division of Marine Fisheries, will be discussing the state of common marine sport fishing, and Michael Flynn, of the N.C. Coastal Federation and the Dare County Waterways Commission, will be talking about the ecology of the Pamlico Sound. There will also be a seminar on the evolution of beach buggies hosted by a representative from the NCBBA, as well as demonstrations on surf casting and rod building.
The seminars will also include two panel discussions: one on female surf fishing anglers, and the other on the future of surf fishing.
Surf fishing is one of the oldest and most treasured activities on the Cape Hatteras National Seashore and is the reason that thousands visit Hatteras Island each year.
"More people surf fish than any other kind of recreational fishing. People have been surf fishing on the island since before it was a National Seashore," Barber said.
Though the future timeline is not set in stone, the NPS hopes to make this a regular event with the help of sponsoring organizations.
Although subject to change, the 1st annual Cape Hatteras Surf Fishing Celebration is scheduled to begin at 9 a.m. with final remarks starting at 4 p.m. No registration is necessary for this event which is free to the public.
Additional parking will be available on the day of the event in the grassy area at Dillon's Corner directly in front of the Fessenden Center.
To get updated information on the event, including exact start and end times as well as a full list of speakers, visit the NPS's event webpage at https://www.nps.gov/caha/planyourvisit/surf-fishing-heritage-event.htm.