Island Fishing: August Fishing Report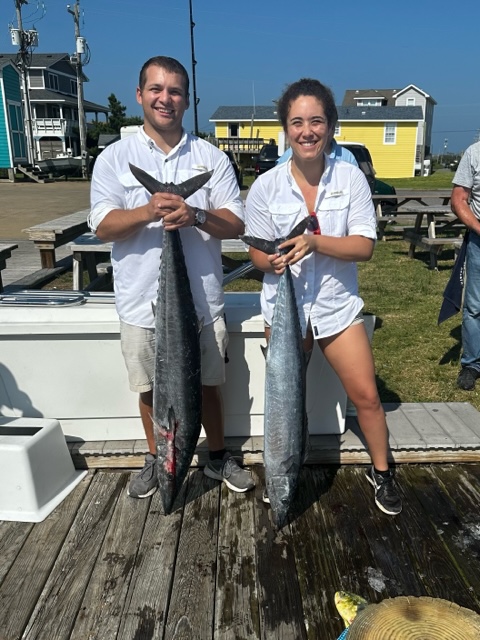 August has been a bit back and forth for us with weather and fishing so far, but anglers are still getting out as much as possible and bringing in the fish!
Beach, sound, and nearshore catches have included some nice slot-size red drum, the occasional cobia, and quite a few speckled and grey trout. For the last couple of weeks, bluefish have been the most reliable catch, but in the past several days, they've been on the smaller side – a big change from the blues we were seeing in June and July.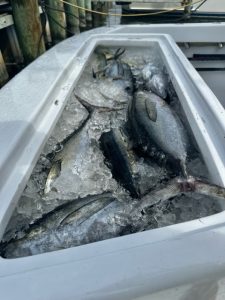 Spanish mackerel are still being caught, but seem to be making fewer appearances lately. On the other hand, we're seeing some really nice sheepshead coming in, and switching up the daily catch reports. In the surf, there have been reports of spot, croaker, and sea mullet, plus a few scattered pompano.
Offshore fishing has been on the slower side overall, as to be expected at this time of year. But as we gradually come out of the peak summer season, we're looking forward to cooler days ahead and better catches!
Despite the days of thunderstorms, excessive heat, and high winds that we've had this month, offshore boats have been getting some really nice blackfin tuna and wahoo. Mahi Mahi (dolphin) catches remain pretty scant most days. Some boats have occasionally been getting on schools of bailers, but this has been more of an exception than the rule lately. Those looking to fill the coolers are better off sticking with the tuna and wahoo for now, but who's complaining? Billfish catches have included sailfish, blue marlin, and a few white marlin and swordfish. Wreck and bottom-fishing trips are still producing good catches of triggerfish, amberjack, grouper, and tilefish. This has been another good way to bring meat back to the docks when the trolling bite is slow.
As we near the end of August, most kids are back, or about to head back to school, and we'll be seeing slightly different groups going out fishing for the rest of the year. Fewer families with young kids, and more individuals, retirees, and friend groups getting together. Hopefully, as things cool off, they'll be lucky with some great days on the water!