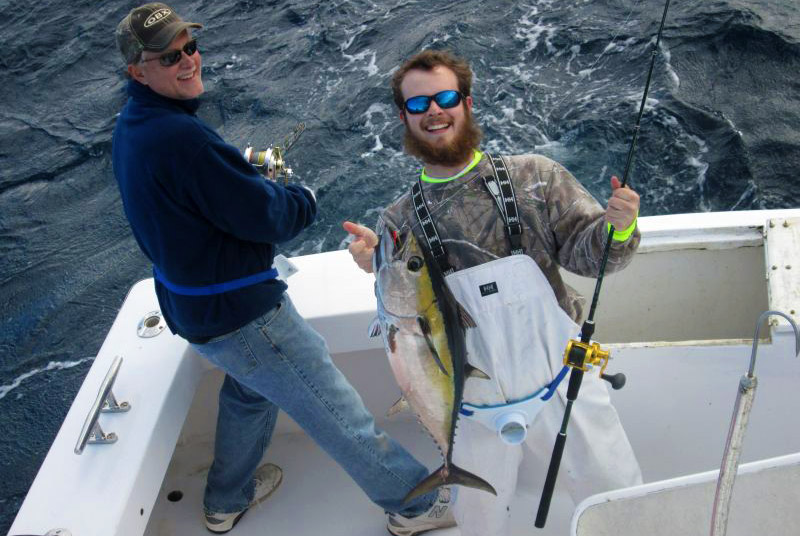 Welcome to springtime! So far this year, we have had two batches of Easter spring breakers, plus OBX Bike Week. The island has been bustling with fishermen, beachgoers and gift shoppers. The temperatures have been perfect, mostly in the high 60s to low 70s. Water temps have been on the rise and so has the fishing!
The offshore charter boats have had excellent fishing all month. Big blackfin tuna and yellowfin tuna have been abundant, and more dolphin are showing up daily, but this spring has ushered in the best early season wahoo fishing that I can remember.
All of our pelagic gamefish are distinctive and beautiful, but wahoo are my favorite. Their lightning-fast strikes and huge runs make the wahoo a worthy adversary for any angler. Long and lean, their brilliant silver stripes and razor sharp teeth make this fish clearly distinguishable from others. Mild, flakey white meat is the reward headed your way after your catch is cleaned. My personal favorite recipe for wahoo is to slather each side of the steaks with mayo, and shake on a liberal amount of lemon pepper Take your steaks off the grill while the middle is still pink, so as not to overcook. Mmm, mmm, good!
With the milder weather and rising sea water temps, gill netters will start gearing up for Spanish mackerel soon. Some of the guys will begin targeting the bottom fish such as grouper and tilefish, whenever the current will allow them to. Green stickers will target yellowfins, and longliners will come in with catches of tuna and swordfish. I expect to see crab pot buoys in the sound pretty soon, as the crabbers begin their spring season.
The inshore charter guides have had a great month sight casting to big red drum in the inlet and in the ocean. Bluefish have given trollers and casters something else to catch as well. I don't know about you, but give me a fresh small bluefish, some medium-hot house autry breader, and some hot grease… now there's some good eatin'! May is right around the corner, and the cobia will begin to make an appearance. Most of the inshore guys enjoy casting to them as much as anything they do!
At Cape Point, the drum blitz has been going on for a couple of weeks. Sounds like it's been as good as it gets! If you plan on giving it a try, bring your patience. Anglers are often elbow to elbow, and tangles are inevitable. Personally, my nerves couldn't take it, but there are thousands of people who live for the big redfish! Bluefish and sea mullet are abundant, for those who want to get away from the point, cast out a piece of bait, and sip on a beer. A little less pressure there.
Everything is back to normal on Hatteras Island, restaurants are open as well as gift shops, tackle stores and marinas. Come on out and get in on some of the great fishing Hatteras has to offer. Oh, and clams too!