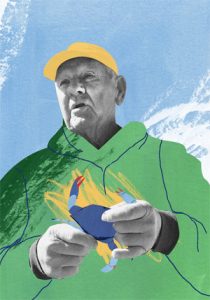 December 17, 1933 – August 22, 2023
KILL DEVIL HILLS — Murray Eugene Bridges, age 89, of Kill Devil Hills, NC, passed away peacefully on August 22, 2023. He was born on December 17, 1933, in Wanchese, NC, to the late Thelma Jones and Holmes Otto Bridges.
Murray led a life filled with hard work and dedication. He served his country honorably in the United States Navy before serving as the chief engineer on the Interstate Oil Company tugboats and pursuing a career as a commercial fisherman. Murray's entrepreneurial spirit led him to own and operate Endurance Seafood Company for an impressive 47 years.
Beyond his professional endeavors, Murray was a devoted member of Manteo Lodge #521 A.F. & A.M. for over 50 years. He valued the bonds formed within this organization and cherished the lifelong friendships he made.
Murray was preceded in death by his parents, Thelma Jones and Holmes Otto Bridges, as well as his beloved son, Otto Eugene Bridges.
Left to cherish his memory is his loving wife, Brady Rogers Bridges; daughters, Brenda Caruana and Kristina "Kissy" Bridges (Gene Ashton); son, Adrian Scott Bridges; grandchildren, Marni Yeates, Angie Counselman (Richard), Heather Bridges, Dr. Tiffany Bridges, DO, Alexis Ashton, Benjamin Ashton, and Dustin Respass; as well as great-grandchildren, Maddie, Ainslee, Ava, Taylor, Macie, Noah, Bayleigh, Makenzie, Libby, and Carter.
A graveside funeral service will be held at 2:00 pm on Sunday, August 27, 2023, in Hilltop Cemetery. The family will receive friends and relatives for a viewing and visitation Saturday evening from 7:00 pm until 9:00 pm at Twiford Funeral Homes in Manteo.
Murray Eugene Bridges will always be remembered for his unwavering commitment to his family, and his dedication to his work. He will be greatly missed by all who knew and loved him. May his soul rest in eternal peace.
Twiford Funeral Homes, Outer Banks is assisting the family with arrangements. Condolences and memories may be shared at www.TwifordFH.com.