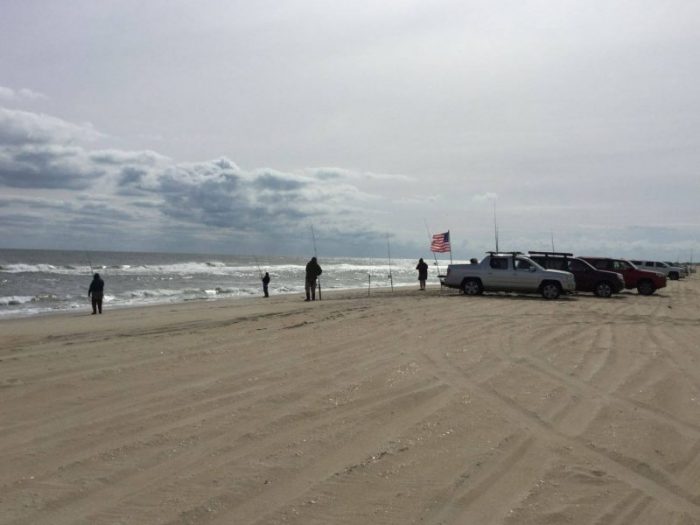 Registration is currently open for the 13th Annual North Carolina Beach Buggy Association (NCBBA) Red Drum Tournament, which is scheduled for Wednesday through Saturday, October 19-22.
The tournament features more than $12,000 in cash and prizes. New for 2022 is a special category for judges within the tournament. Those judges doing two (6-hour) sessions qualify for a $500 cash prize for largest drum caught among judges.
The tournament offers miles of naturally isolated fishing grounds along the Cape Hatteras National Seashore, with anglers enjoying the exceptional fall fishing opportunities on the Outer Banks. Anglers fish from ORV Ramp 23 to Ramp 38, and possibly Ramps 43 and 44, if judge availability permits. During the 60 hours of wide-open fishing, anglers may fish anywhere they please within the tournament boundaries, as there are no station assignments. The banquet and awards ceremony will follow with a 3 p.m. start on Saturday. All required health and safety measures will be considered.
Interested anglers can sign up as individuals or teams online at www.NCBBA.org  The $100 tournament fee includes a tournament T-shirt, a tournament hat, and other goodies. The tournament is open to all, with no invitation required. Individuals and teams of 3-6 are welcome and are encouraged to sign up early to assure their shirt size is available, and housing options remain.
All proceeds from the annual event go to our local organizations and scholarship programs in the Dare and Hyde County communities.
The 2022 tournament rules can be reviewed at 2022 Tournament Rules 12-15-2021.pdf (ncbba.org) and this year's sponsors and boosters can be found at https://www.ncbba.org/images/2022_RDT/2021%20RDT%20Sponsors%20Supporters%20and%20Boostesrs.pdf .
The Co-Chairman, Head Judge, or NCBBA Board of Directors may cancel the complete tournament, or any portion of the tournament, if circumstances such as bad weather arise. If the complete tournament is canceled before it begins, a full refund of the entry fee will be made.
As always, volunteers are needed and are much appreciated during the event. Judges fish for free if working two 6-hour sessions, or for half price if working one session. For questions regarding judges, please contact Chris Worthington at chris.worthington@ncbba.org or 910-676-2565.