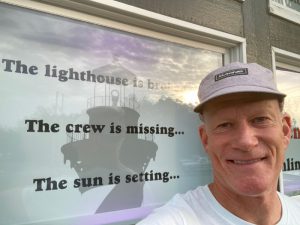 Escape Hatteras is now offering a new escape room experience for the 2023 season with The Crazy Keeper, a lighthouse themed experience.
Escape Hatteras initially opened in June of 2022 offering an escape room called The Spanish Flu. In The Spanish Flu, guests are taken back to 1918 where they must tackle the security systems in a mysterious laboratory.
Owner and escape room designer, Ken Kellar said, "With the success of The Spanish Flu we were encouraged to design and offer additional rooms. The Crazy Keeper was inspired by the importance and appreciation of the Cape Hatteras lighthouse."
Ken pointed out that the term "escape room" can be a bit misleading. He said that at Escape Hatteras there is no escaping from locked rooms. Instead, teams are presented with challenges like: find the cure or get the lighthouse working before the ships crash.
Escape Hatteras is located in Frisco at Pamlico Corner behind the new Chilly Hank's Ice Cream shop at 50840, NC HWY 12. Escape room reservations are made online at www.EscapeHatteras.com.